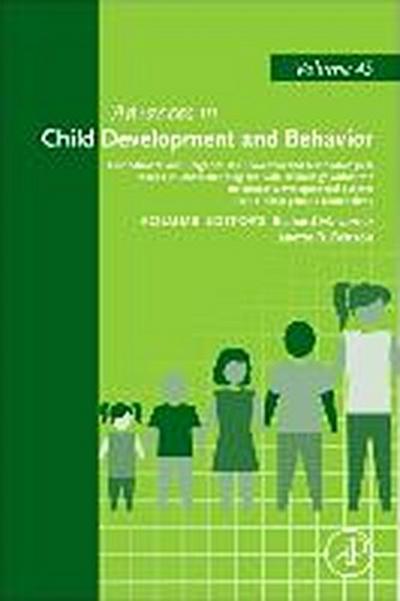 Advances in Child Development and Behavior 45
Academic Press
Embodiment and Epigenesis: Theoretical and Methodological Issues in Understanding the Role of Biology within the Relational Developmental System. Part B, Ontogenetic Dimensions
Volume 45 of Advances in Child Development and Behavior includes chapters that highlight some the most recent research in the area of embodiment and epigenesis.Many topics are discussed in detail, including multiple trajectories in the developmental psychobiology of human handedness and the integration of culture and biology in human development.Each chapter provides in-depth discussions, and this volume serves as an invaluable resource for developmental or educational psychology researchers, scholars, and students.
Editiert von: Richard M. Lerner, Janette B. Benson
Janette B. Benson is an Associate Dean, Morgridge College of Educationan and Associate Professor in the Psychology Department at the University of Denver. She recently served for five years as the Director of the University-wide Office of Academic Assessment and co-chaired the successful University reaccreditation. Dr. Benson's expertise is in cognitive and sensorimotor development in infancy and early childhood, and her research has been funded by the National Science Foundation, the National Institutes of Health, The MacArthur Foundation and the March of Dimes. Dr. Benson has published several articles, book chapters and has edited or co-edited several books, including The Encyclopedia of Infancy and Early Childhood Development. She has been the recipient of several awards and honors, including the University of Denver Scholar - Teacher of the Year (1993), the 2000 CASE Colorado Professor of the Year, a Carnegie Scholar, a Fellow of the Association for Psychological Science, member of the Board of Directors of Shortridge Academy, and the serial editor of Advances in Child Development and Behavior.
Zu diesem Artikel ist noch keine Rezension vorhanden.
Helfen sie anderen Besuchern und verfassen Sie selbst eine Rezension.
Autor: Richard M. Lerner
ISBN-13 :: 9780123979469
ISBN: 0123979463
Erscheinungsjahr: 13.07.2013
Verlag: Elsevier LTD, Oxford
Gewicht: 630g
Seiten: 362
Sprache: Englisch
Sonstiges: Buch, 236x156x27 mm
Mehr von

Weitere Artikel von
Mehr zum Thema