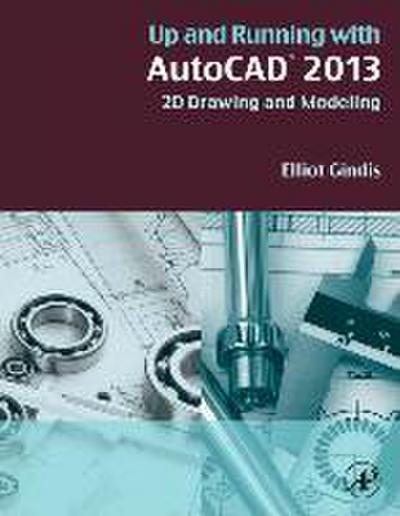 Up and Running with AutoCAD 2013
Academic Press
2D Drawing and Modeling
Acknowledgments

About the Author

Preface

LEVEL 1: Chapters 1-10

Chapter 1. AutoCAD Fundamentals

Learning Objectives

1.1 Introduction and Basic Commands

1.2 The AutoCAD Environment

1.3 Interacting with AutoCAD

1.4 Practicing the Create Objects Commands

1.5 View Objects

1.6 Practicing the Edit/Modify Objects Commands

1.7 Selection Methods

1.8 Drawing Accuracy-Part 1

1.9 Drawing Accuracy-Part 2

1.10 Osnap Drafting Settings

Summary

Chapter 2. AutoCAD Fundamentals

Learning Objectives

2.1 Grips

2.2 Units and Scale

2.3 Snap and Grid

2.4 Cartesian Coordinate System

2.5 Geometric Data Entry

2.6 Inquiry Commands

2.7 Additional Drafting Commands

Summary

Chapter 3. Layers, Colors, Linetypes, and Properties

Learning Objectives

3.1 Introduction to Layers

3.2 Introduction to Linetypes

3.3 Introduction to Properties

3.4 In-Class Drawing Project: Floor Plan Layout

Summary

Spotlight On: Architecture

Chapter 4. Text, Mtext, Editing, and Style

Learning Objectives

4.1 Introduction to Text and Mtext

4.2 Text

4.3 Mtext

4.4 Style

4.5 Spell Check

4.6 In-Class Drawing Project: Adding Text and Furniture to Floor Plan Layout

Summary

Tips

Chapter 5. Hatch Patterns

Learning Objectives

5.1 Introduction to Hatch

5.2 Hatch Procedures

5.3 Working with Hatch Patterns

5.4 Gradient and Solid Fill

5.5 In-Class Drawing Project: Adding Hatch to Floor Plan Layout

Summary

Chapter 6. Dimensions

Learning Objectives

6.1 Introduction to Dimensions

6.2 Types of Dimensions

6.3 Editing Dimensions

6.4 Customizing Dimensions

6.5 In-Class Drawing Project: Adding Dimensions to Floor Plan Layout

Summary

Spotlight On: Mechanical Engineering

Chapter 7. Blocks, Wblocks, Dynamic Blocks, Groups, and Purge

Learning Objectives

7.1 Introduction to Blocks

7.2 Insert

7.3 Purge

7.4 Wblocks

7.5 Dynamic Blocks

7.6 Groups

Summary

Chapter 8. Polar, Rectangular, and Path Arrays

Learning Objectives

8.1 Polar Array

8.2 Rectangular Array

8.3 Path Array

8.4 In-Class Drawing Project: Mechanical Device

Summary

Chapter 9. Basic Printing and Output

Learning Objectives

9.1 Introduction to Printing and Plotting

9.2 The Essentials

9.3 The Plot Dialog Box

9.4 Page Setup Manager

Summary

Spotlight On: Interior Design

Chapter 10. Advanced Output-Paper Space

Learning Objectives

10.1 Introduction to Paper Space

10.2 Paper Space Concepts

Summary

Level 1. Answers to Review Questions

LEVEL 2: Chapters 11-20

Chapter 11. Advanced Linework

Learning Objectives

11.1 Introduction to Advanced Linework

11.2 Pline (Polyline)

11.3 Xline (Construction Line)

11.4 Ray

11.5 Spline

11.6 Mline (Multiline)

11.7 Sketch

11.8 Level 2 Drawing Project (1 of 10): Architectural Floor Plan

Summary

Chapter 12. Advanced Layers

Learning Objectives

12.1 Introduction to Advanced Layers

12.2 Script Files

12.3 Layer State Manager

12.4 Layer Filtering

12.5 Level 2 Drawing Project (2 of 10): Architectural Floor Plan

Summary

Chapter 13. Advanced Dimensions

Learning Objectives

13.1 Introduction to Advanced Dimensions

13.2 Dimension Style Manager

13.3 Introduction to Constraints

13.4 Geometric Constraints

13.5 Dimensional Constraints

13.6 Dimension-Driven Design

13.7 Level 2 Drawing Project (3 of 10): Architectural Floor Plan

Summary

Spotlight On: Electrical Engineering

Chapter 14. Options, Shortcuts, CUI, Design Center, and Express Tools

Learning Objectives

14.1 Options

14.2 Shortcuts

14.3 Customize User Interface

14.4 Design Center

14.5 Express Tools

14.6 Level 2 Drawing Project (4 of 10): Architectural Floor Plan

Summary

Chapter 15. Advanced Design and File Management Tools

Learning Objectives

15.1 Introduction to Advanced Design and File Management Tool
Up and Running with Autocad® 2013 started out as a set of classroom notes that outlined, in an easy to understand manner, exactly how AutoCAD is used and applied, in contrast to theoretical musings or clinical descriptions of the commands as found in other books. This book attempts to use experience and top-level knowledge to sort out what is important and what is secondary, and to explain the essentials in plain language.
This volume comprises 20 chapters, beginning with the AutoCAD fundamentals. The following chapters then focus on layers, colors, linetypes, and properties; text, Mtext, editing, and style; and hatch patterns; dimensions; blocks, Wblocks, dynamic blocks, groups, and purge. Other chapters cover polar, rectangular, and path arrays; basic printing and output; advanced linework; options, shortcuts, CUI, design center, and express tools; advanced design and file management tools; advanced output and pen settings; and isometric drawing. Each chapter in the book ends with a summary and some review questions to aid the reader in retaining essential concepts.
This book will be of interest to engineers, architects, and industrial designers.
Autor: Elliot Gindis
Gindis, Elliot J.Elliot Gindis has used and taught AutoCAD in the New York City area since 1996, logging in well over 20,000 hours of screen time as a designer and consultant in a wide variety of architecture and engineering fields. From 1999 to 2008 he was on staff at the Pratt Institute of Design and as visiting instructor at the New York Institute of Technology (NYIT). He is currently president of Vertical Technologies Consulting and Design, an AutoCAD training firm, and has advised, consulted, or assisted more than 60 companies nationwide in using and optimizing AutoCAD. Elliot is part of the AutoDesk Developers Network and is a Certified Technical Trainer.
Zu diesem Artikel ist noch keine Rezension vorhanden.
Helfen sie anderen Besuchern und verfassen Sie selbst eine Rezension.
Autor: Elliot Gindis
ISBN-13 :: 9780123984081
ISBN: 0123984084
Erscheinungsjahr: 07.09.2012
Verlag: Elsevier LTD, Oxford
Gewicht: 1230g
Seiten: 528
Sprache: Englisch
Auflage 12002, 2. Auflage
Sonstiges: Taschenbuch, 276x215x25 mm
Mehr von

Weitere Artikel von