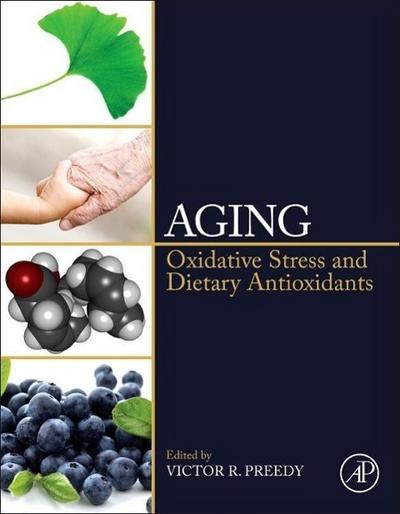 Aging
Academic Press
Oxidative Stress and Dietary Antioxidants
Skin aging and oxidative stress

Sarcopenia and oxidative stress

Ovarian aging and oxidative stress

The brain in aging and oxidative stress

Alzheimer's disease and oxidative stress

The heart, aging and oxidative stress

Age-related changes in the cardiovascular system

The immune system in aging and role of oxidative stress

The lung in aging and oxidative stress

Diseases of aging: Cancer and oxidative stress

Skin aging and vitamin C

Aging skin and natural estrogenic antioxidants

Nutricosmetics and skin aging

Antioxidant nutrition and sarcopenia

Magnesium, oxidative stress and aging muscle

Ascorbic acid in postmenopausal women and artery compliance

Effects of tocopherol supplements on menopausal disorders

Antioxidant aspects of plum to treat menopausal symptoms and effects on body systems

Statins and reduction in oxidative stress in aged brain

Saffron and the aged brain: antioxidant aspects

Green tea catechins and the aging brain

Metals and oxidative stress in Alzheimer's disease

Alzheimer's disease and plant derived melatonin

Antioxidants in Alzheimer's disease

Antioxidant vitamins and cardiovascular disease

Oxidative stress, carotenoids and cardiovascular protection

Hypertension, menopause and natural antioxidants

Selenium and heart disease in aging

Vitamin C and heart failure

Immune function and coffee consumption in the aged

Immune systems and food based strategies in the aged

Immune changes in aging and dietary antioxidants

Minerals and COPD

Vitamin E and lung disease in the elderly

Vitamins and breast cancer

Vitamin E and colorectal cancer

Coffee consumption and cancer mortality

Garlic extracts and cancer

Red wine and prostate cancer
Aging: Oxidative Stress and Dietary Antioxidants bridges the trans-disciplinary divide and covers in a single volume the science of oxidative stress in aging and the potentially therapeutic use of natural antioxidants in the diet or food matrix. The processes within the science of oxidative stress are described in concert with other processes, such as apoptosis, cell signaling, and receptor mediated responses. This approach recognizes that diseases are often multifactorial, and oxidative stress is a single component of this.

Gerontologists, geriatricians, nutritionists, and dieticians are separated by divergent skills and professional disciplines that need to be bridged in order to advance preventative as well as treatment strategies. While gerontologists and geriatricians may study the underlying processes of aging, they are less likely to be conversant in the science of nutrition and dietetics. On the other hand, nutritionists and dietitians are less conversant with the detailed clinical background and science of gerontology. This book addresses this gap and brings each of these disciplines to bear on the processes inherent in the oxidative stress of aging.

Nutritionists can apply information related to mitochondrial oxidative stress in one disease to diet-related strategies in another unrelated disease
Dietitians can prescribe new foods or diets containing anti-oxidants for conditions resistant to conventional pharmacological treatments
Dietitians, after learning about the basic biology of oxidative stress, will be able to suggest new treatments to their multidisciplinary teams
Nutritionists and dietitians will gain an understanding of cell signaling and be able to suggest new preventative or therapeutic strategies with anti-oxidant rich foods
Editiert von: Victor R. Preedy
Preedy, Victor R.Victor R. Preedy BSc, PhD, DSc, FRSB, FRSPH, FRCPath, FRSC is a senior member of King's College London. He is also Director of the Genomics Centre and a member of the Faculty of Life Sciences and Medicine.

Professor Preedy has longstanding academic interests in substance misuse especially in relation to health and well being. He is a member of the Editorial Board of Drug and Alcohol Dependence and a founding member of the Editorial Board of Addiction Biology. In his career Professor Preedy was Reader at the Addictive Behaviour Centre at The University of Roehampton, and also Reader at the School of Pharmacy (now part of University College London; UCL). Professor Preedy is Editor of the influential works The Handbook Of Alcohol Related Pathology, The Neuropathology of Drug Addictions and Substance Misuse and The Handbook of Cannabis and Related Pathologies (all published by Academic Press-Elsevier).

Professor Preedy graduated in 1974 with an Honours Degree in Biology and Physiology with Pharmacology. He gained his University of London PhD in 1981. In 1992, he received his Membership of the Royal College of Pathologists and in 1993 he gained his second doctoral degree (DSc). Professor Preedy was elected as a Fellow of the Institute of Biology in 1995 and also as a Fellow to the Royal College of Pathologists in 2000. He was then elected as a Fellow of the Royal Society for the Promotion of Health (2004) and The Royal Institute of Public Health and Hygiene (2004). In 2009, Professor Preedy became a Fellow of the Royal Society for Public Health and in 2012 a Fellow of the Royal Society of Chemistry.

To his credit, Professor Preedy has published over 600 articles, which includes peer-reviewed manuscripts based on original research, abstracts and symposium presentations, reviews and numerous books and volumes.
Zu diesem Artikel ist noch keine Rezension vorhanden.
Helfen sie anderen Besuchern und verfassen Sie selbst eine Rezension.
Autor: Victor R. Preedy
ISBN-13 :: 9780124059337
ISBN: 0124059333
Erscheinungsjahr: 13.05.2014
Verlag: Elsevier LTD, Oxford
Gewicht: 948g
Seiten: 301
Sprache: Englisch
Sonstiges: Buch, 288x225x22 mm
Mehr von

Weitere Artikel von