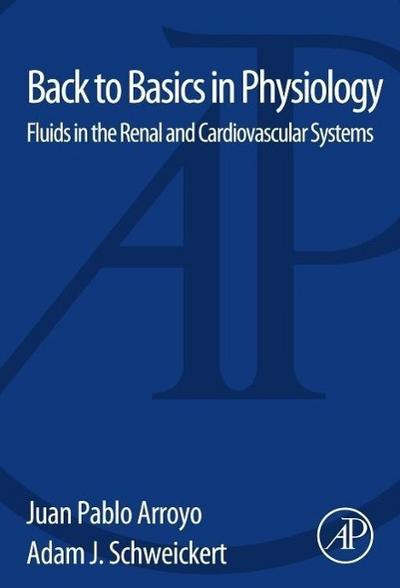 Back to Basics in Physiology: Fluids in the Renal and Cardiovascular Systems
Academic Press
Presents a simple explanation of the distribution, dynamics and regulation of water in the body.
Autor: Juan Pablo Arroyo, Adam J. Schweickert
After receiving his medical degree with honors from the University of La Salle in Mexico City, Dr. Arroyo pursued a PhD in Biomedical Science at the National Autonomous University in Mexico City (UNAM), focusing on renal ion transport physiology. During this time he was appointed Adjunct Professor of Physiology at the University of La Salle and the Panamerican University School of Medicine. Dr. Arroyo has been a guest speaker at several international renal physiology conferences, and is interested in clinical medicine, basic science research and active teaching in the classroom. Dr. Arroyo finished a transitional year in General Surgery at the Yale-New Haven Hospital, has taken a position as a Post-Doctoral research fellow at the Genetics Department of the Yale University School of Medicine and will resume clinical training in Internal Medicine and Nephrology after completing his post doc. Dr. Schweickert earned his medical doctorate at the University of Toledo in Ohio. He went on to complete his Pediatrics residency at Emory University in Atlanta, Georgia. During this time, he volunteered at multiple international clinics throughout Central and South America. Dr. Schweickert spent several years teaching as a Pediatric Hospitalist before taking time off to travel the world with his wife. He presently works as a clinician in the Pediatric ICU at St. Barnabas Medical Center in New Jersey.
Zu diesem Artikel ist noch keine Rezension vorhanden.
Helfen sie anderen Besuchern und verfassen Sie selbst eine Rezension.
Autor: Juan Pablo Arroyo
ISBN-13 :: 9780124071681
ISBN: 0124071686
Erscheinungsjahr: 13.05.2013
Verlag: Elsevier LTD, Oxford
Gewicht: 241g
Seiten: 164
Sprache: Englisch
Sonstiges: Taschenbuch, 228x151x15 mm