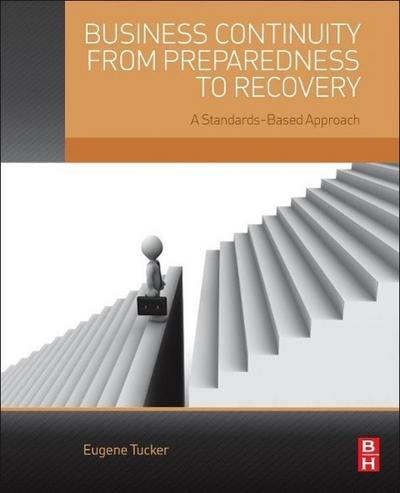 Business Continuity from Preparedness to Recovery
A Standards-Based Approach
Business Continuity-A Definition and a Brief History
Understanding the Standards
Building a Business Continuity Capability
Comprehensive Emergency Management
Business Impact Analysis
Risk Assessment
Mitigation and Business Continuity Strategy
Business Continuity Plans and Procedures
Orientation, Exercising, and Testing
Continuous Improvement
Appendices
Business Continuity from Preparedness to Recovery: A Standards-Based Approach details the process for building organizational resiliency and managing Emergency and Business Continuity programs. With over 30 years of experience developing plans that have been tested by fire, floods, and earthquakes, Tucker shows readers how to avoid common traps and ensure a successful program, utilizing, detailed Business Impact Analysis (BIA) questions, continuity strategies and planning considerations for specific business functions.

One of the few publications to describe the entire process of business continuity planning from emergency plan to recovery, Business Continuity from Preparedness to Recovery addresses the impact of the new ASIS, NFPA, and ISO standards. Introducing the important elements of business functions and showing how their operations are maintained throughout a crisis situation, it thoroughly describes the process of developing a mitigation, prevention, response, and continuity Management System according to the standards. Business Continuity from Preparedness to Recovery fully integrates Information Technology with other aspects of recovery and explores risk identification and assessment, project management, system analysis, and the functional reliance of most businesses and organizations in a business continuity and emergency management context.

Offers a holistic approach focusing on the development and management of Emergency and Business Continuity Management Systems according to the new standards
Helps ensure success by describing pitfalls to avoid and preventive measures to take
Addresses program development under the standards recently developed by ISO, ASIS and NFPA
Provides both foundational principles and specific practices derived from the author's long experience in this field
Explains the requirements of the Business Continuity Standards
Autor: Gene Tucker, Eugene Tucker
Tucker, EugeneEugene (Gene) Tucker, CPP, CFE, CBCP, CHST, is co-author of Butterworth Heinemann's Risk Analysis and the Security Survey, 4th edition. He is qualified as a Certified Continuity Manager (CCM) - ISO 22301 Lead Implementer and as an ISO 22301 Lead Auditor, and has extensive international experience as a corporate manager, investigator, trainer and consultant in security, safety, and business continuity planning.
Zu diesem Artikel ist noch keine Rezension vorhanden.
Helfen sie anderen Besuchern und verfassen Sie selbst eine Rezension.
Autor: Gene Tucker
ISBN-13 :: 9780124200630
ISBN: 012420063X
Erscheinungsjahr: 13.02.2015
Verlag: Elsevier LTD, Oxford
Gewicht: 660g
Seiten: 301
Sprache: Englisch
Sonstiges: Taschenbuch, 231x186x20 mm
Mehr von

Weitere Artikel von