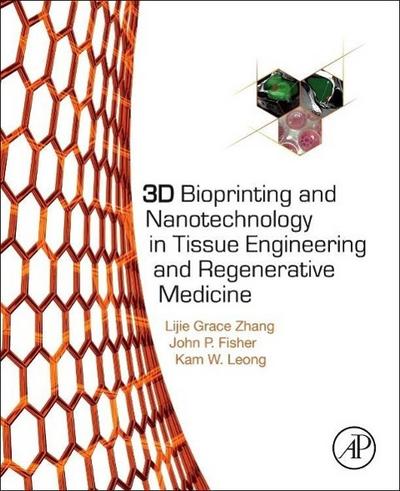 3D Bioprinting and Nanotechnology in Tissue Engineering and Regenerative Medicine
Academic Press
Preface Part I: Basic Principles: Chapter 1: Nanotechnology: A toolkit for cell behaviour Chapter 2: 3D Bioprinting and nanomanufacturing Chapter 3: 3D Bioprinting techniques Chapter 4: The Power of CAD/CAM Laser Bioprinting at the Single Cell Level: Evolution of Printing Chapter 5: Engineering 2D and 3D cellular microenvironments using laser direct-write

Part II: Applications: Nanotechnology and 3D Bioprinting for Tissue/Organ Regeneration Chapter 6: Biomaterials for Bioprinting Chapter 7: Blood vessel regeneration Chapter 8: Vascular tissue Chapter 9: Craniofacial/ dental tissue Chapter 10: Craniofacial Bone Chapter 11: Additive manufacturing for bone load bearing applications Chapter 12: 3D printing for cartilage Chapter 13: Bioprinting for Skin Chapter 14: 3D Printing and Nanotechnology for Neural Tissue Regeneration Chapter 15: Organ Printing Chapter 16: 3D Bioprinting, Nanotechnology and Intellectual Property
3D Bioprinting and Nanotechnology in Tissue Engineering provides an in depth introduction to these two technologies and their industrial applications. Stem cells in tissue regeneration are covered, along with nanobiomaterials. Commercialization, legal and regulatory considerations are also discussed in order to help you translate nanotechnology and 3D printing-based products to the marketplace and the clinic. Dr. Zhang's and Dr. Fishers' team of expert contributors have pooled their expertise in order to provide a summary of the suitability, sustainability and limitations of each technique for each specific application. The increasing availability and decreasing costs of nanotechnologies and 3D printing technologies are driving their use to meet medical needs, and this book provides an overview of these technologies and their integration. It shows how nanotechnology can increase the clinical efficiency of prosthesis or artificial tissues made by bioprinting or biofabrication. Students and professionals will receive a balanced assessment of relevant technology with theoretical foundation, while still learning about the newest printing techniques.

Includes clinical applications, regulatory hurdles, and risk-benefit analysis of each technology.
This book will assist you in selecting the best materials and identifying the right parameters for printing, plus incorporate cells and biologically active agents into a printed structure
Learn the advantages of integrating 3D printing and nanotechnology in order to improve the safety of your nano-scale materials for biomedical applications
Autor: Lijie Grace Zhang, John Fisher, Weng Kam Leong
Zhang, Lijie GraceDr. Zhang received the Early Career Award from the International Journal of Nanomedicine, the John Haddad Young Investigator Award by American Society for Bone and Mineral Research, Ralph E. Powe Junior Faculty Enhancement Award by the Oak Ridge Associated Universities Organization, Joukowsky Family Foundation Outstanding Dissertation Award at Brown and the Sigma Xi Award. Dr. Zhang's research areas include 3D bioprinting, nanobiomaterials, complex tissue engineering, stem cell engineering, drug delivery and breast cancer bone metastasis

Fisher, John P
Dr. Fisher is the Director of the Tissue Engineering and Biomaterials Laboratory and investigates biomaterials, stem cells, and bioreactors for the regeneration of lost tissues, particularly bone, cartilage, vasculature, and skeletal muscle. The lab is supported by research grants from NIH, FDA, NSF, and other institutions, and has produced approximately 90 publications, 200 scientific presentations, and 8 patents. Dr. Fisher has been the research advisor to 11 Ph.D. students, 3 M.S. students, and over 50 undergraduate researchers. In 2012 Dr. Fisher was elected Fellow of the American Institute for Medical and Biological Engineering. Dr. Fisher is currently the Editor-in-Chief of the journal Tissue Engineering, Part B: Reviews, and in 2014 will co-chair the TERMIS-AM Meeting in Washington, DC

Leong, Kam
Dr. Leong has published over 280 peer-reviewed research manuscripts and owns more than 50 issued patents. His work has been recognized by a Young Investigator Research Achievement Award of the Controlled Release Society, Distinguished Scientist Award of the International Journal of Nanomedicine, and Clemson Award for Applied Research of the Society for Biomaterials. He is the Editor-in-Chief of Biomaterials, and also a member of the National Academy of Engineering.
Zu diesem Artikel ist noch keine Rezension vorhanden.
Helfen sie anderen Besuchern und verfassen Sie selbst eine Rezension.
Autor: Lijie Grace Zhang
ISBN-13 :: 9780128005477
ISBN: 0128005475
Erscheinungsjahr: 12.04.2015
Verlag: Elsevier LTD, Oxford
Gewicht: 953g
Seiten: 373
Sprache: Englisch
Sonstiges: Buch, 238x189x22 mm