Autor:
Bradley A. Wayland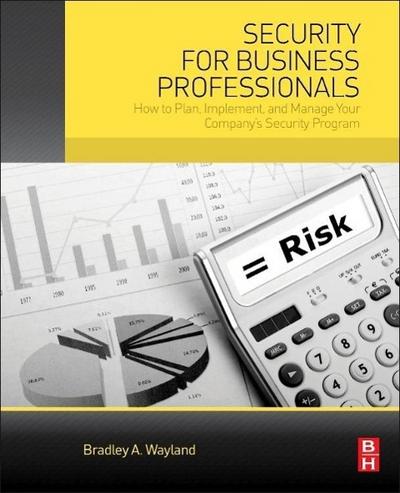 Security for Business Professionals
Butterworth-Heinemann
How to Plan, Implement, and Manage Your Company's Security Program
99
Chapter 1: Leadership and Management

PART 1: SECURITY PLANNING CONSIDERATIONS

Chapter 2: Safety and Security Principles

Chapter 3: Security Plan Development and Risk Assessment

Chapter 4: Safety and Security Program Administration

Chapter 5: Facility Security Design

PART 2: SECURITY PROGRAM AREAS

Chapter 6: Physical Security

Chapter 7: Information Security

Chapter 8: Personnel Security

PART 3: EMERGENCY RESPONSE AND TRAINING

Chapter 9: Emergency Response and Contingency Planning

Chapter 10: Safety and Security Training Program
Security for Business Professionals offers business executives and managers everything they need to set-up a security program, especially for those who don't have the resources to hire an in-house security staff. It can also be used for assessing the adequacy of an existing security program.

The book provides an overview of the key security objectives and challenges that managers face, such as how to measure the effectiveness of a security program and balance the costs and benefits. It also shows how to develop security procedures that conform to key regulatory requirements, and how to assess an organization's most important risks, vulnerabilities, and threats.

Security for Business Professionals addresses key physical and informational security concerns, including areas such as asset protection, loss prevention, and personnel security. It also discusses how to develop emergency and incident response plans, and concludes with suggested safety and security exercises and training recommendations.

Written in an introductory and accessible way for those new to security.
Illustrates key concepts with case studies and real-world examples from a wide variety of industries.
Provides recommended readings and checklists for more in-depth coverage of each topic.

Autor: Bradley A. Wayland
Wayland, Bradley A.Brad Wayland is a safety and security management expert with over 28 years of experience in the field. As a graduate of the U.S. Air Force Academy, he entered the Air Force and served over 20 years in the Security Forces. He was hand-selected on three occasions to command a Security Forces Squadron, where he acted as both the chief of police and director of security for installations ranging in size from 2,000 to over 20,000 personnel. Over the course of his career, he was responsible for nuclear security programs and plans, law enforcement, and public safety management programs.

After his retirement from the military, he has continued gaining expertise and experience in the safety and security arena in both the public and private sectors. He has worked on security projects in the healthcare, education, banking, and manufacturing areas and has provided expertise in security training and vulnerability assessments in a variety of functional areas. He has also worked overseas in the Middle East with the Department of Defense and Department of State in training host national police and providing executive protection to U.S. personnel assigned in hostile locations.

In addition to Brad's vast experience in the security and safety realms, he has also received training and experience in leading, supervising, and managing personnel and teams to ensure success in their endeavors. Brad currently resides in Spokane, Washington where he is the president of Sentry Security Consultants, LLC.
Zu diesem Artikel ist noch keine Rezension vorhanden.
Helfen sie anderen Besuchern und verfassen Sie selbst eine Rezension.
Autor: Bradley A. Wayland
ISBN-13 :: 9780128005651
ISBN: 0128005653
Erscheinungsjahr: 29.09.2014
Verlag: Elsevier LTD, Oxford
Gewicht: 545g
Seiten: 244
Sprache: Englisch
Sonstiges: Taschenbuch, 233x184x15 mm
Mehr von

Weitere Artikel von
Mehr zum Thema