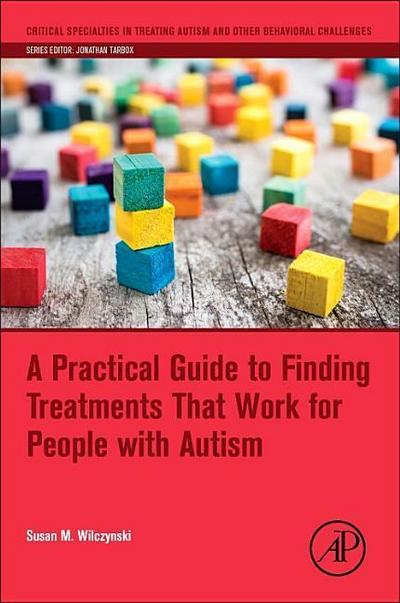 A Practical Guide to Finding Treatments That Work for People with Autism
Section I: Evidence-Based Practice: A Brief Overview

Section II: Best Available Evidence 1. Systematic Review 2. Other Sources of Evidence

Section III: Target, Stakeholder, and Leader Client Variables, Values, and Preferences 3. Client Health 4. Client Repertoire and Behavioral Cusps 5. Client Preferences 6. Quality of Life, Generalization, and Social Validity 7. Treatment Acceptability and Social Validity 8. Treatment Feasibility and Social Validity 9. Context Matters: Getting Systems to Adopt Treatments

Section IV: Professional Judgment 10. Initial Selection: Weighing and Integrating Information 11. Progress Monitoring 12. Determining the Next Step

Section V. Conclusions and Examples
A Practical Guide to Finding Treatments That Work for People with Autism provides a logical, culturally sensitive, and values-based resource to aid practitioners in making informed decisions on the most effective treatment for any given client at any given time.

By providing multiple illustrative examples, practitioners will learn to use their professional judgment to integrate the best available evidence with client values and context. This will increase the efficacy of autism treatments, with the goal of producing meaningful gains across a range of skills.

Presents a detailed description of the evidence-based practice of applied behavior analysis as it applies to ASD
Offers a decision-making framework that helps clinicians integrate the best available evidence with client values and context
Guides practitioners through the process of assessing treatment outcomes that fit with client values and contextual variables
Provides concrete examples for various age groups
Autor: Susan Wilczynski
Wilczynski, Susan M.Dr. Susan Wilczynski is the Plassman Family Distinguished Professor of Special Education and Applied Behavior Analysis. Before joining the faculty at Ball State University, she served as the Executive Director of the National Autism Center, where she chaired the National Standards Project. The National Standards was the largest comprehensive systematic review of the autism treatment literature of its time. Dr. Wilczynski developed the first center-based treatment program in the state of Nebraska while on faculty at the University of Nebraska Medical Center. As an assistant professor at the University of Southern Mississippi, she supervised the first psychology lab run by a woman in the Psychology department. Dr. Wilczynski has edited multiple books and manuals on evidence-based practice and autism. Most recently, she has published articles related to evidence-based practice and diversity as well as evidence-based practice in non-traditional settings. Dr. Wilczynski has published scholarly works in the Journal of Applied Behavior Analysis, Behavior Modification, Focus on Autism and Other Developmental Disabilities, Educating and Treating Children, and Psychology in the Schools. She currently serves as on the Practice Board for the Association for Behavior Analysis International. Dr. Wilczynski is a licensed psychologist and a board certified behavior analyst.
Zu diesem Artikel ist noch keine Rezension vorhanden.
Helfen sie anderen Besuchern und verfassen Sie selbst eine Rezension.
Autor: Susan Wilczynski
ISBN-13 :: 9780128094808
ISBN: 012809480X
Erscheinungsjahr: 01.01.2017
Verlag: Elsevier LTD, Oxford
Gewicht: 242g
Seiten: 127
Sprache: Englisch
Sonstiges: Taschenbuch, 228x149x10 mm
Mehr von

Weitere Artikel von