Autor:
Howard S. Friedman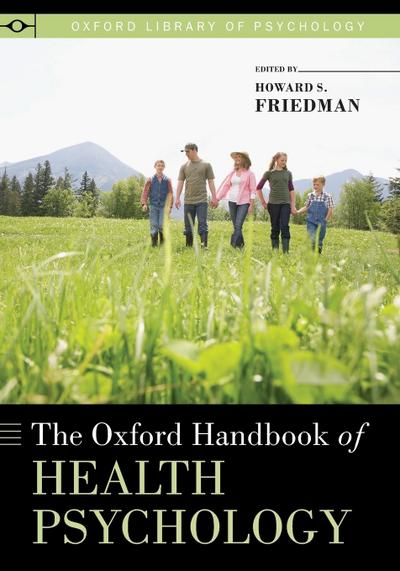 The Oxford Handbook of Health Psychology
Oxford Library of Psychology
The Oxford Handbook of Health Psychology brings together preeminent experts to provide a comprehensive view of key concepts, tools, and findings of this rapidly expanding core discipline.
Part One: Background, History, and Methods; 1. The Intellectual Roots of Health Psychology; Howard S. Friedman and Nancy E. Adler; 2. A History of the Development of Health Psychology; Wade Pickren and Silvia Degni; 3. Measurement in Health Psychology Research; Timothy W. Smith; 4. Designing and Conducting Interventions to Enhance Physical and Mental Health Outcomes; J. Lee Westmaas, Virginia Gil-Rivas, and Roxane C. Silver; 5. Uncertainty, Variability, and Resource Allocation in the Health Care Decision Process; Robert M. Kaplan; Part Two: Core Concepts in Health Psychology; 6. The Brain, Homeostasis, and Health: Balancing Demands of the Internal and External Milieu; John T. Cacioppo and Gary G. Berntson; 7. Psychoneuroimmunology; Margaret E. Kemeny; 8. Stress, Coping, and Health; Charles S. Carver and Sara Vargas; 9. Social Support; Shelley E. Taylor; 10. Personality, Disease, and Self-healing; Howard S. Friedman; 11. Adjustment to Chronic Disease: Progress and Promise in Research; Annette L. Stanton and Tracey A. Revenson; 12. Social Comparison Processes: Implications for Physical Health; Jerry Suls; 13. Health and Illness Perceptions; Yael Benyamimi; Part Three: Core Issues in Clinical Health; 14. Physician-Patient Communication; Judith A. Hall and Debra L. Roter; 15. Aging and Health; Karen Rook, Susan Turk Charles, and Jutta Heckhausen; 16. Chronic Pain: Closing the Gap between Evidence and Practice; Beverly Thorn; 17. Coping with Cancer; Vanessa Malcarne; 18. Expressive Writing, Emotional Upheavals, and Health; James W. Pennebaker and Cindy K. Chung; 19. Beyond the Myths of Coping with Loss: Prevailing Assumptions versus Scientific Evidence; Camille Wortman and Kathrin Boerner; 20. Family Consultation for Couples Coping with Health Problems: A Social Cybernetic Approach; Michael J. Rohrbaugh and Varda Shoham; 21. Childhood Health and Chronic Illness; Barbara Tinsley; 22. Transplantation; Mary Amanda Dew and Andrea F. DiMartini; 23. HIV/AIDS; Lydia Temoshok; Part Four: Health Behaviors and Change; 24. Health Behavior Change; Ralf Schwarzer; 25. Advancing Health Behavior Theory: The Interplay among Theories of Health Behavior, Empirical Modeling of Health Behavior, and Behavioral Interventions; Leona Aiken; 26. The Perception of Health Risks; Britta Renner and Harald Schupp; 27. Physical Activity; Dawn Wilson; 28. Alcohol Use and Alcohol Use Disorders; Kenneth J. Sher, Amelia Talley, Andrew K. Littlefield, and Julia Martinez; 29. Obesity; Emily L. Van Walleghen, Betsy A. Steeves, and Hollie A. Raynor; 30. Dispositional Optimism, Psychophysiology, and Health; Suzanne Segerstrom; Part Five: Population and Socio-Cultural Issues; 31. Community Health; Marta Gil Lacruz; 32. Latino Health; John Ruiz and Patrick Steffen; 33. Two Decades of Social Change in Central and Eastern Europe: Implications for Health; Irina L. G. Todorova; 34. Asian Meditation and Health; Yosuke Sakairi, Genji Sugamura, and Masao Suzuki; 35. Health Consequences of Social Relationships in Non-human Primates; John P. Capitanio; Part Six: Conclusion; 36. Conclusion: The Achievements and Promise of Health Psychology; Howard S. Friedman
The flaws in today's healthcare systems and practices are well-documented: millions remain far from optimal health due to a variety of psychological and social factors; large numbers of patients do not fully cooperate with medical advice; errors in medical decision-making - some stemming from flaws in interpersonal relations - regularly lead to needless suffering and death. Further, the effects of emotions, personality, and motivation on healing are not wellincorporated into traditional medical care.

The Oxford Handbook of Health Psychology compiles the most relevant scholarship from psychology, medicine, and public health to offer a thorough and authoritative model of the biopsychosocial approach to health. A collection of international contributors addresses all relevant concepts in this model, including its applications to health promotion, health behavior change, and treatment.
Autor: Howard S. Friedman
Howard S. Friedman, Ph.D., is Distinguished Professor at the University of California, Riverside.
Zu diesem Artikel ist noch keine Rezension vorhanden.
Helfen sie anderen Besuchern und verfassen Sie selbst eine Rezension.
Autor: Howard S. Friedman
ISBN-13 :: 9780199365074
ISBN: 0199365075
Erscheinungsjahr: 27.02.2014
Verlag: Oxford University Press
Gewicht: 1797g
Seiten: 944
Sprache: Englisch
Sonstiges: Taschenbuch, 254x179x55 mm
Mehr von

Weitere Artikel von
Mehr zum Thema