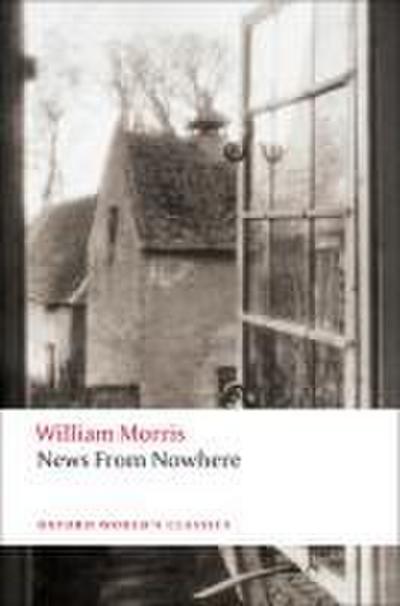 News from Nowhere
Oxford World's Classics
News from Nowhere is the best-known prose work of Willam Morris. Set in London and the Thames Valley in the twenty-second century, these 'Chapters from a Utopian Romance' draw upon the work of John Ruskin and Karl Marx to describe a decentralized and humane socialist future.
99
'The only English utopia since More's that deserves to be remembered as literature.'
News from Nowhere (1890) is the best-known prose work of William Morris. The novel describes the encounter between a visitor from the nineteenth century, William Guest, and a decentralized and humane socialist future. Set over a century after a revolutionary upheaval in 1952, these 'Chapters from a Utopian Romance' recount his journey across London and up the Thames to Kelmscott Manor, Morris's own country house in Oxfordshire. Drawing on the work of John Ruskin and Karl Marx,
Morris's book is not only an evocative statement of his egalitarian convictions but also a distinctive contribution to the utopian tradition. Morris's rejection of state socialism and his ambition to transform the relationship between humankind and the natural world, giveNews from Nowhere a particular resonance
for modern readers.

The text is based on that of 1891, incorporating the extensive revisions made by Morris to the first edition.

ABOUT THE SERIES: For over 100 years Oxford World's Classics has made available the widest range of literature from around the globe. Each affordable volume reflects Oxford's commitment to scholarship, providing the most accurate text plus a wealth of other valuable features, including expert introductions by leading authorities, helpful notes to clarify the text, up-to-date bibliographies for further study, and much more.

Autor: William Morris
William Morris (1834-96) war als Maler, Architekt, Dichter, Kunstgewerbler, Ingenieur und Drucker der bei Weitem vielseitigste Vertreter der Arts and Crafts Movement. Als früher Begründer der sozialistischen Bewegung Großbritanniens wusste er seine Begeisterung für das Mittelalter mit klarsichtiger Kritik an seiner Gegenwart zu verbinden. Zu seinen literarischen Werken zählen eine Reihe phantastischer Prosaepen, deren Einfluss als Vorläufer der modernen Fantasy zumeist unterschätzt wird.
Zu diesem Artikel ist noch keine Rezension vorhanden.
Helfen sie anderen Besuchern und verfassen Sie selbst eine Rezension.
Autor: William Morris
ISBN-13 :: 9780199539192
ISBN: 0199539197
Erscheinungsjahr: 26.03.2009
Verlag: Oxford University Press
Gewicht: 180g
Seiten: 256
Sprache: Englisch
Sonstiges: Taschenbuch, 197x128x15 mm, 1 line drawing