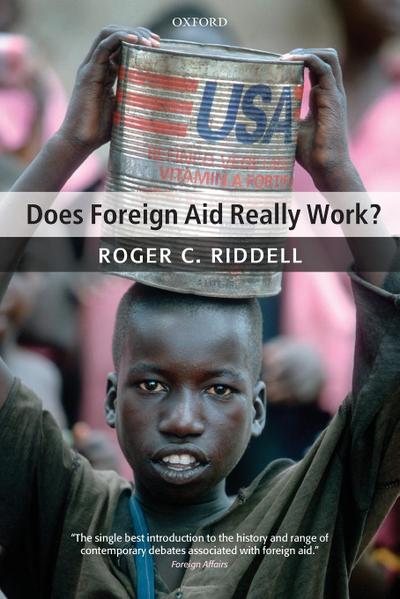 Does Foreign Aid Really Work?
Provided for over 60 years, and expanding more rapidly today than it has for a generation, foreign aid is now a $100bn business. But does it work? Indeed, is it needed at all? In this first-ever, overall assessment of aid, Roger Riddell provides a rigorous but highly readable account of aid, warts and all.
1. 'A Good Thing?' ; PART I: THE COMPLEX WORLDS OF FOREIGN AID ; 2. The origins and early decades of aid-giving ; 3. Aid-giving from the 1970s to the present ; 4. The growing web of bilateral aid donors ; 5. The complexities of multilateral aid ; PART II: WHY IS AID GIVEN? ; 6. The political and commercial dimensions of aid ; 7. Public support for aid ; 8. Charity or duty? The moral case for aid ; 9. The moral case for governments and individuals to provide aid ; PART III: DOES AID REALLY WORK? ; 10. Assessing and measuring the impact of aid ; 11. The impact of official development aid projects ; 12. The impact of programme aid, technical assistance and aid for capacity development ; 13. The impact of aid at the country and cross-country level ; 14. Assesing the impact of aid conditionality ; 15. Does official development aid really work? A summing up ; 16. NGOs in development and the impact of discrete NGO development interventions ; 17. The wider impact of non-governmental and civil society organizations ; 18. The growth of emergencies and the humanitarian response ; 19. The impact of emergency and humanitarian aid ; PART IV: TOWARDS A DIFFERENT FUTURE FOR AID ; 20. Why aid isn't working ; 21. Making aid work better by implementing agreed reforms ; 22. Making aid work better by recasting aid relationships
First book on aid to provide a comprehensive examination of official, NGO and emergency/humanitarian aidPersuasively argues that aid is not necessary for development to happen - though, if used properly, it can provide an important catalyst to accelerate the development processArgues that one of aid's main failings is the existence of too many donors and too many NGOs New to this edition: Preface revised and updated to take account of recent developments
Autor: Roger C. Riddell
Roger Riddell is a Non-Executive Director of Oxford Policy Management and a Principle of The Policy Practice. He was Chair of the first Presidential Economic Commission of Independent Zimbabwe in 1980, and Chief Economist of the Confederation of Zimbabwe Industries from 1981-83. From 1984 to 1998, he was a senior Research Fellow at the Overseas Development Institute, London and for five years to 2004 was International Director of Christian Aid.
Zu diesem Artikel ist noch keine Rezension vorhanden.
Helfen sie anderen Besuchern und verfassen Sie selbst eine Rezension.
Autor: Roger C. Riddell
ISBN-13 :: 9780199544462
ISBN: 0199544468
Erscheinungsjahr: 01.08.2008
Verlag: OXFORD UNIV PR
Gewicht: 760g
Seiten: 507
Sprache: Englisch
Sonstiges: Taschenbuch, 235x156x30 mm
Mehr von

Weitere Artikel von