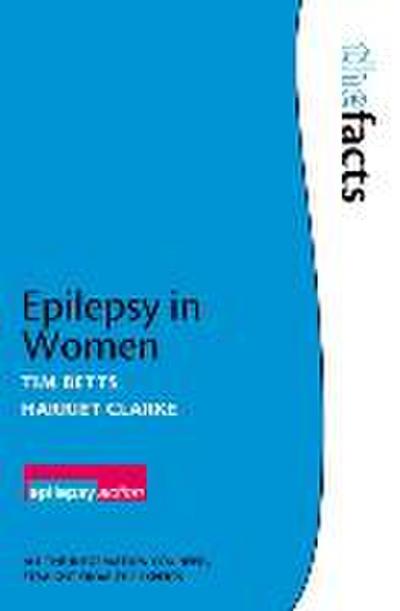 Endorsed by Epilepsy Action
PART ONE; 1. What is epilepsy?; 2. The physical causes and emotional triggers of epilepsy; 3. How epilepsy is diagnosed - or should be; 4. So, if it isn't epilepsy, what is it?; 5. The risks of seizures; 6. The management of epilepsy; 7. The drugs in use: Pros and cons; 8. Other treatments, other problems; PART TWO - BEING A WOMAN, HAVING EPILEPSY; 9. Being a woman - having epilepsy; 10. Epilepsy and sexuality; 11. Contraception, epilepsy and epilepsy treatment; 12. Epilepsy and fertility; 13. Pre-conception counselling; 14. Pregnancy; 15. Labour, birth and the immediate aftermath; 16. Childcare; 17. The premenopause, the perimenopause, and the menopause; 18. The older woman; 19. Being a woman, having epilepsy: Harriet's story; Appendix 1 Drugs for epilepsy; Appendix 2 Where else to find help and information
This book describes the problems that epilepsy can cause for women such as during menstruation, pregnancy, childbearing and the menopause. It offers practical advice on the symptoms, diagnosis and management of epilepsy, providing an invaluable resource that enables women to take control of their health and to cope with their condition.
Autor: Tim Betts, Harriet Clarke
Tim Betts studied at the Birmingham University Medical School, graduating in 1963 with the Foxwell Prize in Clinical Medicine. He spent some time as a Tutorial Scholar in the University of Minnesota before becoming Senior Lecturer in Psychiatry in the University of Birmingham. For many years, he was the clinician in charge of the Birmingham University Seizure Clinic. This clinic developed one of the very few services for women with epilepsy in the UK, especiallyduring pregnancy, with the adjacent Birmingham Maternity Hospital. He was appointed Reader in Neuropsychiatry in 1999 and retired in 2004.

Harriet grew up in Herefordshire and was educated at Hereford Cathedral School. After her A-levels she left home to go travelling with a friend. She taught for 3 months in Ghana and travelled around West Africa, Thailand and Australasia. After travelling, she went to University in Roehampton, London to study Primary Education with English. After graduating in 2006 she went travelling in India, and then studied at International House, London, learning how to teach adults English. She is now a
Primary school teacher, and plans to move abroad.
Zu diesem Artikel ist noch keine Rezension vorhanden.
Helfen sie anderen Besuchern und verfassen Sie selbst eine Rezension.
Autor: Tim Betts
ISBN-13 :: 9780199548835
ISBN: 0199548838
Erscheinungsjahr: 01.02.2009
Verlag: PAPERBACKSHOP UK IMPORT
Gewicht: 204g
Seiten: 168
Sprache: Englisch
Sonstiges: Taschenbuch, 193x127x10 mm
Mehr von

Weitere Artikel von