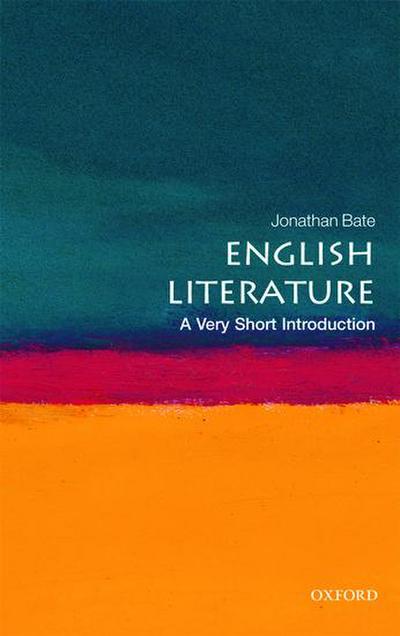 English Literature: A Very Short Introduction
Very Short Introductions
English Literature: A Very Short Introduction discusses why literature matters, how narrative works, and what is distinctly English about English literature. Jonathan Bate considers how we determine the content of the field, and looks at the three major kinds of imaginative literature - English poetry, English drama and The English novel.
From the contents:
1: Once upon a time; 2: What it is; 3: When it began; 4: The study of English; 5: Periods and movements; 6: Among the English Poets; 7: Shakespeare and dramatic literature; 8: Aspects of the English novel; 9: The Englishness of English literature; Further Reading
Sweeping across two millennia and every literary genre, acclaimed scholar and biographer Jonathan Bate provides a dazzling introduction to English Literature. The focus is wide, shifting from the birth of the novel and the brilliance of English comedy to the deep Englishness of landscape poetry and the ethnic diversity of Britain's Nobel literature laureates. It goes on to provide a more in-depth analysis, with close readings from an extraordinary scene in King Lear
to a war poem by Carol Ann Duffy, and a series of striking examples of how literary texts change as they are transmitted from writer to reader.

The narrative embraces not only the major literary movements such as Romanticism and Modernism, together with the most influential authors including Chaucer, Donne, Johnson, Wordsworth, Austen, Dickens and Woolf, but also little-known stories such as the identity of the first English woman poet to be honoured with a collected edition of her works. Written with the flair and passion for which Jonathan Bate has become renowned, this book is the perfect Very Short Introduction for all
readers and students of the incomparable literary heritage of these islands.

ABOUT THE SERIES: The Very Short Introductions series from Oxford University Press contains hundreds of titles in almost every subject area. These pocket-sized books are the perfect way to get ahead in a new subject quickly. Our expert authors combine facts, analysis, perspective, new ideas, and enthusiasm to make interesting and challenging topics highly readable.
Autor: Jonathan Bate
Jonathan Bate is Professor of Shakespeare and Renaissance Literature at the University of Warwick. Among his many books are John Clare: A Biography (Farrar Straus Giroux), which won Britain's two oldest literary prizes, the Hawthomden and the James Tait Black, a best-selling book on Shakespeare for the general reader, The Genius of Shakespeare (Picador, UK and OUP, USA), and a major intellectual biography of Shakespeare in the cultural context of the Elizabethan Age (The Soul of the Age). He is also chief editor of The RSC Shakespeare: Complete Works (Macmillan UK/Random House Modern Library USA).
Zu diesem Artikel ist noch keine Rezension vorhanden.
Helfen sie anderen Besuchern und verfassen Sie selbst eine Rezension.
Autor: Jonathan Bate
ISBN-13 :: 9780199569267
ISBN: 0199569266
Erscheinungsjahr: 01.10.2010
Verlag: Oxford University Press
Gewicht: 159g
Seiten: 192
Sprache: Englisch
Sonstiges: Taschenbuch, 173x112x15 mm, 15 black and white halftones
Mehr von

Weitere Artikel von