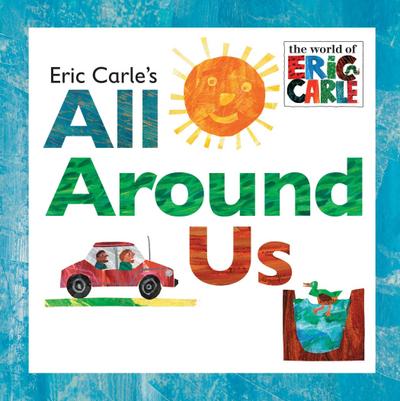 Eric Carle's All Around Us
The delightful images from the All Around Us slipcase are now in this fun, interactive format. By lifting the big, sturdy flaps, young readers will learn new words and concepts through Eric Carle's bright, beautiful images and simple phrases. A perfect companion title for Eric Carle's ABC and Opposites.
Autor: Eric Carle
Illustriert von: Eric Carle
Eric Carle is the acclaimed and beloved creator of brilliantly illustrated and innovatively designed picture books for very young children. His best-known work, The Very Hungry Caterpillar, has eaten its way into the hearts of literally millions of children all over the world and has been translated into more than 50 languages and sold over 33 million copies. Since the Caterpillar was published in 1969, Eric Carle has illustrated more than seventy books, many best sellers, most of which he also wrote, and more than 110 million copies of his books have sold around the world. Eric Carle recently won the Laura Ingalls Wilder Award for Lifetime achievement in children's literature, and his books, as well as the new Eric Cale Museum of Picture Book Art in Amherst, Massachusetts, continue to keep him at top momentum. Eric Carle has two grown-up children, a son and a daughter. With his wife Barbara, he divides his time between the Florida Keys and the hills of North Carolina. Visit him at eric-carle
Zu diesem Artikel ist noch keine Rezension vorhanden.
Helfen sie anderen Besuchern und verfassen Sie selbst eine Rezension.
Autor: Eric Carle
ISBN-13 :: 9780448477848
ISBN: 044847784X
Erscheinungsjahr: 26.09.2013
Verlag: Penguin LCC US
Gewicht: 235g
Seiten: 14
Sprache: Englisch
Altersempfehlung: 3 - 5 Jahre
Sonstiges: Taschenbuch, 184x183x17 mm