Autor:
Peter L. Bernstein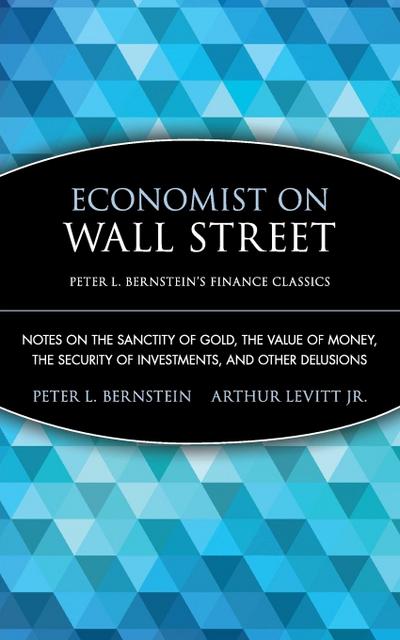 Economist on Wall Street
Notes on the Sanctity of Gold, the Value of Money, the Security of Investments, and Other Delusions
Bernstein's Economist on Wall Street is based on his observations of he market over a period of 15 years, from 1955 to 1970. However, the observations he made then have significant relevance for today. Peter Bernstein s name has become synonymous with the storytelling of our financial history.
New Foreword by Arthur Levitt Jr. Original Foreword by Gilbert E. Kaplan. New Introduction. Original Introduction. Chapter 1: Priorities Is . . . Chapter 2 : The Feel of the Market. Chapter 3: Inflation and the Economy. Chapter 4: Gold and the Balance of Payments. Chapter 5: How Wrong Can You Be? Chapter 6: The Economist as Portfolio Manager. Chapter 7: Philosophy and Fantasy. Index.
One of the foremost financial writers of his generation, Peter Bernstein has the unique ability to synthesize intellectual history and economics with the theory and practice of investment management. Now, with classic titles such as Economist on Wall Street, A Primer on Money, Banking, and Gold, and The Price of Prosperity--which have forewords by financial luminaries and new introductions by the author--you can enjoy some of the best of Bernstein in his earlier Wall Street days.Peter Bernstein's Economist on Wall Street is a collection of writings from 1955 to 1970. The book is especially interesting because so many of Bernstein's observations reflect the most important issues of the present--the outlook for inflation and its control, the intricacies of monetary policy, the future of the dollar, and the dilemmas of household finances. Bernstein was also concerned with developments in portfolio management, including the new influence of institutional investors and rules for optimal asset mixes. He provides light touches, too, as he indulges in fantasies and philosophical musings over a wide variety of topics.
With so many years of hindsight, we should not be surprised to find some of Bernstein's predictions running awry. But why? In each instance, these forecasts were biased by memories of the past. There is a big lesson to be learned there.
Economist on Wall Street is a remarkable book, with lasting relevance and keen insights into the art of investment management, the capital markets, gold and the dollar, and the fun of being alive.

Autor: Peter L. Bernstein
Peter L. Bernstein ist Analyst und Investmentberater in New York. Mehrere Jahre lehrte er an der dortigen New School for Social Research. 1974 gründete er das Journal of Portfolio Management. Er erhielt für seine Arbeit und seine Veröffentlichungen mehrere Preise, unter anderem die drei bedeutendsten Auszeichnungen der AIMR (Association for Investment Management & Research).
Zu diesem Artikel ist noch keine Rezension vorhanden.
Helfen sie anderen Besuchern und verfassen Sie selbst eine Rezension.
Autor: Peter L. Bernstein
ISBN-13 :: 9780470287590
ISBN: 0470287594
Erscheinungsjahr: 01.10.2008
Verlag: Wiley John + Sons
Gewicht: 340g
Seiten: 336
Sprache: Englisch
Sonstiges: Taschenbuch, 205x126x20 mm
Mehr von

Weitere Artikel von