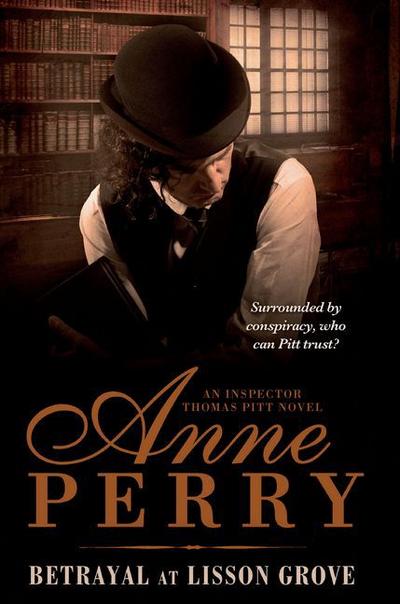 Betrayal at Lisson Grove
Vol.26, Thomas Pitt
Anarchy, intrigue and a thrilling chase in Victorian London
Die in Schottland lebende Anne Perry begann bereits in den 1960er Jahren zu schreiben, doch veröffentlicht wurde sie erstmals 1979 mit dem allerersten Teil der im viktorianischen Zeitalter spielenden Thomas-Pitt-Serie. Somit ist dieses die längste fortgesetzte Krimi-Serie eines lebenden Autors.
The next thrilling instalment of Anne Perry's acclaimed Inspector Thomas Pitt series
Another fantastic Pitt novel from the master storyteller of the Victorian mystery.
1895 and an increasingly violent tide of political unrest is rising fast all over Europe. Special Branch's Inspector Thomas Pitt knows that they must find those responsible before England is overrun by reformists intent on overthrowing the government. When he finds himself in pursuit of a suspected terrorist, Pitt has no hesitation in following the chase all the way to France.
But events take a sinister turn when Narraway, Pitt's superior, is accused of involvement in the death of an Irish informant and abruptly removed from office. Aware that her husband's own career is also in jeopardy if he is not reinstated, Pitt's wife Charlotte determines to help Narraway clear his name.
As Charlotte and Narraway depart for Ireland and Pitt is drawn deeper into the investigation in France, it becomes clear that outside forces have conspired to separate them at a crucial time in the country's history. With no one else to trust can they make it back to England and stop the revolt before it's too late?
Autor: Anne Perry
Perry, AnneAnne Perry is a New York Times bestselling author noted for her memorable characters, historical accuracy and exploration of social and ethical issues. Her two series, one featuring Thomas Pitt and one featuring William Monk, have been published in multiple languages. Anne Perry has also published a successful series based around World War One and the Reavley family, and the recent standalone novel The Sheen on the Silk. Anne Perry was selected by The Times as one of the twentieth century's '100 Masters of Crime'.
Zu diesem Artikel ist noch keine Rezension vorhanden.
Helfen sie anderen Besuchern und verfassen Sie selbst eine Rezension.
Autor: Anne Perry
ISBN-13 :: 9780755376827
ISBN: 075537682X
Verlag: Headline
Gewicht: 285g
Seiten: 448
Sprache: Englisch
Sonstiges: Taschenbuch, 176xx mm, n/a