Autor:
Christine Woyshner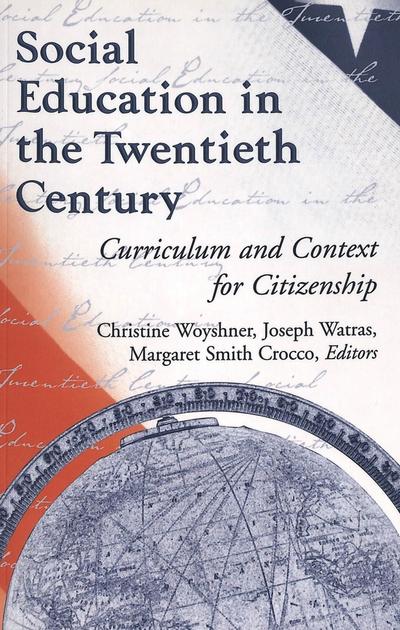 Social Education in the Twentieth Century
Curriculum and Context for Citizenship
Exklusives Verkaufsrecht für: Gesamte Welt.
Contents: Chara Haeussler Bohan: Early Vanguards of Progressive Education: The Committee of Ten, The Committee of Seven, and Social Education - Andra Makler: «Problems of Democracy» and the Social Studies Curriculum during the Long Armistice - Steven Jay Gross: Civic Hands Upon the Land: Diverse Patterns of Social Education in the Civilian Conservation Corps and its Analogues 1933-1942 - Yoon K. Pak: Teaching for Intercultural Understanding in the Social Studies: A Teacher's Perspective in the 1940s - Benjamin M. Jacobs: Jewish Education for Intelligent Citizenship in the American Jewish Community, 1910-1940 - Christine Woyshner: From Assimilation to Cultural Pluralism: The PTA and Civic Education, 1900-1950 - Andrew Mullen: «Some Sort of Revolution»: Reforming the Social Studies Curriculum, 1957-1972 - Tyrone C. Howard: Social Studies during the Civil Rights Movement, 1955-1975 - Margaret Smith Crocco: Women and the Social Studies: The Long Rise and Rapid Fall of Feminist Activity in the National Council for the Social Studies - Avner Segall: Social Studies and the Discourses of Postmodernity - Jackie M. Blount: Same-Sex Desire, Gender, and Social Education in the Twentieth Century - Joseph Watras: Historians and Social Studies Educators, 1893-1998 - Stephen J. Thornton: Citizenship Education and Social Studies Curriculum Change after 9/11.
Since the birth of the republic, the aim of social education has been to prepare citizens for participation in democracy. In the twentieth century, theories about what constitutes good citizenship and who gets full citizenship in the civic polity changed dramatically. In this book, contributors with backgrounds in history of education, educational foundations, educational leadership, and social studies education consider how social education - inside and outside school - has responded to the needs of a society in which the nature and prerogatives of citizenship continue to be contentious issues.

Editiert von: Christine Woyshner, Joseph Watras, Margaret Smith Crocco
The Editors: Christine Woyshner received her Ed.D. in Teaching, Curriculum, and Learning Environments from the Harvard Graduate School of Education in 1999 and researches the history of women in education. Joseph Watras is Professor of Historical and Social Foundations of Education at the University of Dayton in Ohio. Margaret Smith Crocco is Associate Professor of Social Studies and Education at Teachers College, Columbia University.
Zu diesem Artikel ist noch keine Rezension vorhanden.
Helfen sie anderen Besuchern und verfassen Sie selbst eine Rezension.
Autor: Christine Woyshner
ISBN-13 :: 9780820462479
ISBN: 0820462470
Erscheinungsjahr: 22.06.2004
Verlag: Lang, Peter
Gewicht: 380g
Seiten: 233
Sprache: Englisch
Sonstiges: Taschenbuch, 226x149x20 mm
Mehr von

Weitere Artikel von
Mehr zum Thema