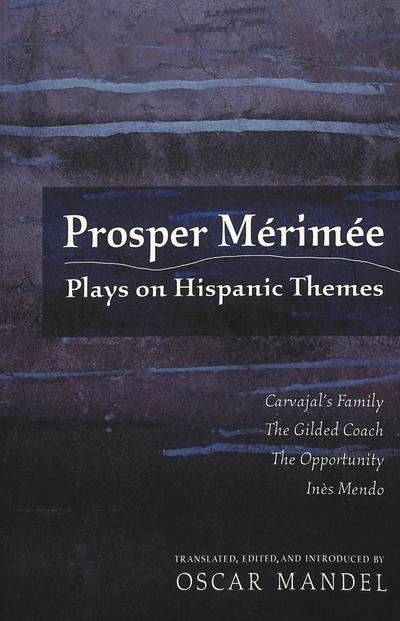 Prosper Mérimée
124, Currents in Comparative Romance Languages and Literatures
Plays on Hispanic Themes. Carvajal's Family, The Gilded Coach, The Opportunity, Inès Mendo
Exklusives Verkaufsrecht für: Gesamte Welt.
On a remote, fortified homestead in the Andes, a ferocious overlord attempts to rape his daughter and subsequently murders her. In a convent school in Havana, two adolescent girls fall in love with their priest, with fatal consequences. In Spain, a nobleman marries a village girl and an ideal of social equality collides with life's brutal realities. And in Lima, a beautiful and clever actress bamboozles her lover, the governor of Peru. Prosper Mérimée, best remembered for his creation of Carmen, wrote these plays - three of them powerfully tragic and the other a delicious comedy - in his late twenties, at the height of his creative powers. They are brought together in this volume in superbly stageworthy translations, preceded by a thorough introduction to Mérimée's unjustly neglected body of dramatic works.

Autor: Prosper Mérimée
ワbersetzung von: Oscar Mandel
The Editor and Translator: Belgian-born Oscar Mandel is Professor of Literature at the California Institute of Technology. He has published translations of plays by Molière, Thomas Corneille, Marivaux, Tirso de Molina, Ludwig Tieck, August von Kotzebue, and others. His Reinventions: Four Plays After Homer, Cervantes, Calderón, and Marivaux is the most recent collection of his own works for the stage.
Zu diesem Artikel ist noch keine Rezension vorhanden.
Helfen sie anderen Besuchern und verfassen Sie selbst eine Rezension.
Autor: Prosper Mérimée
ISBN-13 :: 9780820463087
ISBN: 0820463086
Erscheinungsjahr: 04.08.2003
Verlag: Lang, Peter
Gewicht: 300g
Seiten: 204
Sprache: Englisch
Sonstiges: Taschenbuch, 229x154x13 mm
Mehr von

Weitere Artikel von