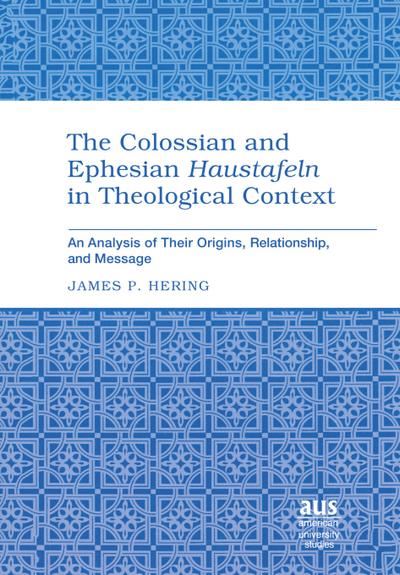 The Colossian and Ephesian Haustafeln in Theological Context
260, American University Studies Series 7: Theology and Religion
An Analysis of Their Origins, Relationship, and Message
Exklusives Verkaufsrecht für: Gesamte Welt.
In this groundbreaking study, James P. Hering investigates the theological and ethical motivation that informs the controversial New Testament household codes (Haustafeln) found in the epistles to the Colossians (3:18-4:1) and Ephesians (5:22-6:9). Within most New Testament scholarship, the household code has been regarded as an imported element within its host letter, reflecting either pagan or embarrassingly sub-Christian values. Is the household code merely a nod to the pragmatic demands of culture, or can it be understood as a reflection of the author's theological concerns? What can it teach us today? Hering provides a unique analysis of these passages, revealing the Haustafeln in their historical context and examining their theological roots. This book is of vital importance for courses on Christian ethics and New Testament backgrounds.
Autor: James P. Hering
The Author: James P. Hering is Assistant Professor of New Testament at Erskine Theological Seminary in South Carolina. He received his Ph.D. in New Testament exegesis from the University of Aberdeen, Scotland.
Zu diesem Artikel ist noch keine Rezension vorhanden.
Helfen sie anderen Besuchern und verfassen Sie selbst eine Rezension.
Autor: James P. Hering
ISBN-13 :: 9780820495057
ISBN: 0820495050
Erscheinungsjahr: 23.08.2007
Verlag: Lang, Peter
Gewicht: 632g
Seiten: 285
Sprache: Englisch
Sonstiges: Buch, 236x161x25 mm
Mehr von

Weitere Artikel von