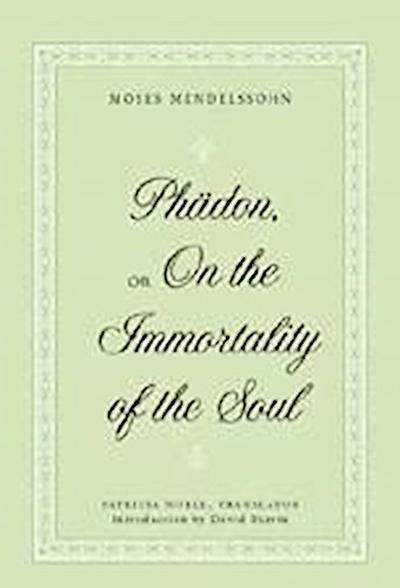 Phädon, or On the Immortality of the Soul
Exklusives Verkaufsrecht für: Gesamte Welt.
This is the first modern translation of Moses Mendelssohn's classic work of 1767, the Phädon. It includes Mendelssohn's own introduction and appendix, as well as footnotes and explanatory introduction by David Shavin. (Charles Cullen's translation of 1789 is the only other extant translation.) The «modern Socrates» of the German classical period, Mendelssohn has created a beautiful translation and elaboration of Plato's Phädo led to a revolution in thought, and a subsequent renaissance in Germany. The debt of the German classical period to ancient Greece is embodied in Mendelssohn's Phädon, as is the promise of the American Revolution. The translation and accompanying notes recapture Mendelssohn's unique marriage of depth of thought and breadth of appeal.
Autor: Moses Mendelssohn
ワbersetzung von: Patricia Noble
The Translator: Patricia Noble, a member of the Schiller Institute since its founding in 1984, is a student and a researcher of the German Classical Period and its relationship to the ancient Greeks. She has published a translation of Wilhelm von Humboldt's essay On the Greek Ideal from German, as well as articles on the Iliad and other Greek themes.
Introduction: David Shavin is a historical researcher for the Schiller Institute. He has written articles on Moses Mendelssohn, Gottfried Leibniz, Benjamin Franklin, and Wolfgang Amadeus Mozart, as well as a translation of Solon's The Constitutional Order from ancient Greek. His weekly seminar, centered on dramatic readings of Plato's dialogues, is now in its eighth year.
Zu diesem Artikel ist noch keine Rezension vorhanden.
Helfen sie anderen Besuchern und verfassen Sie selbst eine Rezension.
Autor: Moses Mendelssohn
ISBN-13 :: 9780820495293
ISBN: 0820495298
Erscheinungsjahr: 07.12.2006
Verlag: Lang, Peter
Gewicht: 275g
Seiten: 185
Sprache: Englisch
Sonstiges: Taschenbuch, 231x154x13 mm
Mehr von

Weitere Artikel von