Autor:
Kevin G. Barnhurst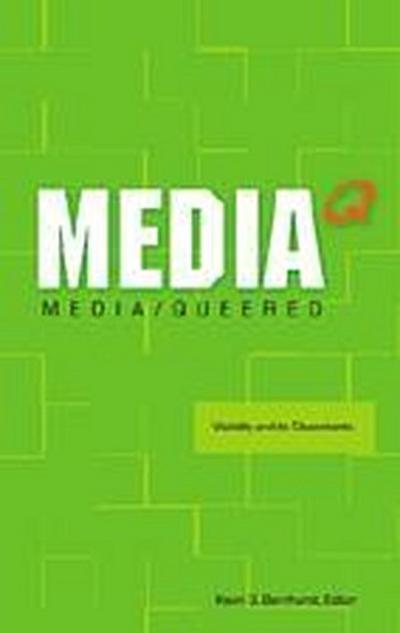 Media Queered
Visibility and its Discontents
Exklusives Verkaufsrecht für: Gesamte Welt.
Contents: Kevin G. Barnhurst: Visibility as Paradox: Representation and Simultaneous Contrast - John D'Emilio: Introduction. Progress and Representation - Edward Alwood: A Gift of Gab: How Independent Broadcasters Gave Gay Rights Pioneers a Chance to Be Heard - Bruce Henderson: The Man without a Face: Homosexuality, Homophobia, and Homoerasure - James Allan: And Baby Makes Three...: Gay Men, Straight Women, and the Parental Imperative in Film and Televison - Studs Terkel: Interlude A. The Brass Check and Thomas Paine - Deidre McCloskey: Introduction. Queer Markets - Katherine Sender: Professional Homosexuals: The Politics of Sexual Identification in Gay and Lesbian Media and Marketing - Vincent Doyle: Insiders - Outsiders: Dr. Laura and the Contest for Cultural Authority in LGBT Media Activism - Amit Kama: Israeli Gay Men's Consumption of Lesbigay Media: «I'm Not Alone... in This Business» - Tracy Baim/Jason DeRose/Deborah Kadin/Ellen Meyers/Laura Kipnis: Interlude B. Commentaries and Reactions - Jaime Hovey: Introduction. Queer Change Agents - Gavin Jack: A Case of Whorephobia? - Marguerite Moritz: Say I Do: Gay Weddings in Mainstream Media - Lisa Henderson: Queer Visibility and Social Class - Todd Mundt: Interlude C. Talking Gay - Steve Jones: Introduction. Queer on Line - David J. Phillips: Privacy, Surveillance, or Visibility: New Information Environments in the Light of Queer Theory - Han N. Lee: Queering Race in Cyberspace - Larry Gross: Gideon, Who Will Be Twenty-five in the Year 2012: Growing Up Gay Today.
Media Queered is a groundbreaking assessment of minorities and the media. Authorities including Larry Gross, Edward Alwood, Lisa Henderson, and Marguerite Moritz join several new scholars to examine four aspects of visibility: history, expertise, popularity, and technology. To supplement this research, media practitioners including journalists working in the gay and mainstream press contribute a unique series of interludes. The first is by Studs Terkel, who interviewed founders of the U.S. homophile movement. Written for scholars, students, and instructors of media and gender studies, Media Queered is also accessible for general readers intrigued by the recent flowering of queer characters, themes, and images in popular culture.

Zu diesem Artikel ist noch keine Rezension vorhanden.
Helfen sie anderen Besuchern und verfassen Sie selbst eine Rezension.
Autor: Kevin G. Barnhurst
ISBN-13 :: 9780820495330
ISBN: 0820495336
Erscheinungsjahr: 07.08.2007
Verlag: Lang, Peter
Gewicht: 658g
Seiten: 298
Sprache: Englisch
Sonstiges: Buch, 236x156x25 mm
Mehr von

Weitere Artikel von