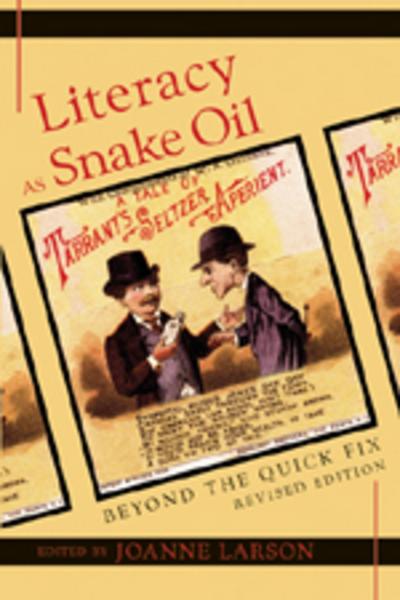 Literacy as Snake Oil
1, New Literacies and Digital Epistemologies
Beyond the Quick Fix
Exklusives Verkaufsrecht für: Gesamte Welt.
Contents: Joanne Larson: In Sheep's Clothing: Uncovering the Wolf - James Paul Gee: Reading and Language Development: Beyond Limited Perspectives - Gerald Coles: Forging «Facts» to Fit an Explanation: How to make Reading Research Support Skills-Emphasis Instruction - Patricia D. Irvine/Joanne Larson: Literacy Packages in Practice: Constructing Academic Disadvantage - Lynn Asterita Gatto: Success Guaranteed Literacy Programs: I Don't Buy It! - Patrick Shannon: Fattening Frogs for Snakes: Virtues for Sale - Kris D. Gutiérrez: «Sameness as Fairness»: The New Tonic of Equality and Opportunity - Brian Street/Adam Lefstein/Kate Pahl: The National Literacy Strategy in England: Contradictions of Control and Creativity - Nancy Ares/Edward Buendía: Complex Literacy Landscapes: Veiled Meanings and Contested Identities - Dan Osborn: Digging Up the Family Tree: America's Forced Choice.
This revised edition of Literacy as Snake Oil further investigates and critiques the commodification of literacy and education. Since the publication of the first edition, schools in the U.S. have been targeted even more as a market for private companies seeking to profit from the surveillance of NCLB (No Child Left Behind). Three chapters have been added: one that deals with the reproduction of racialized spaces during a textbook adoption, an analysis of America's Choice by a classroom teacher, and an analysis of the U.K.'s literacy strategy. This book will inspire teachers to remember their political commitments to resist oppression and unethical practice and find ways to subvert teacher- (and student-) proof packages.

Editiert von: Joanne Larson
The Editor: Joanne Larson is Michael W. Scandling Professor of Education and Chair of the Teaching and Curriculum program at the University of Rochester's Warner Graduate School of Education and Human Development. Her recent book, Making Literacy Real: Theories and Practices in Learning and Teaching (2005), co-authored with Jackie Marsh, explores the breadth of the complex field of literacy studies, orientating literacy as a social practice grounded in social, cultural, historical, and political contexts.
Zu diesem Artikel ist noch keine Rezension vorhanden.
Helfen sie anderen Besuchern und verfassen Sie selbst eine Rezension.
Autor: Joanne Larson
ISBN-13 :: 9780820495439
ISBN: 0820495433
Erscheinungsjahr: 29.06.2007
Verlag: Lang, Peter
Gewicht: 307g
Seiten: 200
Sprache: Englisch
Auflage Revised Edition
Sonstiges: Taschenbuch, 225x151x15 mm