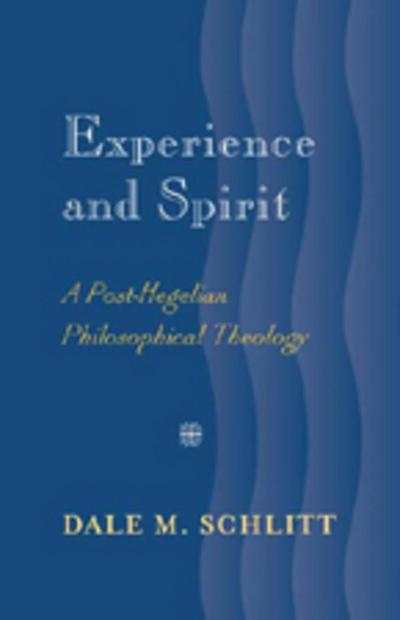 Experience and Spirit
A Post-Hegelian Philosophical Theology
Exklusives Verkaufsrecht für: Gesamte Welt.
Hegel's philosophy of religion is a philosophical theology in which God is conceived as a movement of inclusive divine subjectivity - ultimately God inclusive of the world. For Hegel, this inclusive divine subjectivity took the form of a movement of conceptual thought. In an effort to work with Hegel while going beyond him, Experience and Spirit presents God as a movement of inclusive divine subjectivity; however, that movement is understood to be not one of thought but of enriching experience and, thus, of spirit. This argument in favor of a renewed understanding of Hegel's true infinite proceeds in three major steps: first, a consideration of Hegel's own problematic proposal; second, the elaboration of a fuller and more contemporary notion of experience; and, third, three constructive phenomenological and philosophical reflections on basic questions in philosophical theology, namely, the experience of God, speaking about God, and the notions of evil, freedom, and mystery. In the end, Experience and Spirit proposes a philosophy of generosity, both human and divine.

Autor: Dale M. Schlitt
The Author: Dale M. Schlitt, O.M.I., is the Rector of Saint Paul University in Ottawa, Canada. He received his Ph.D. in religion from Claremont Graduate University in Claremont, California. He has been a Research Resident at the Institute for Ecumenical and Cultural Research, Collegeville, Minnesota, and a Research Fellow at the Institute for the Advanced Study of Religion in the Divinity School of the University of Chicago. He is the author of Hegel's Trinitarian Claim: A Critical Reflection (1984), Divine Subjectivity: Understanding Hegel's Philosophy of Religion (1990), and Theology and the Experience of God (Peter Lang, 2001).
Zu diesem Artikel ist noch keine Rezension vorhanden.
Helfen sie anderen Besuchern und verfassen Sie selbst eine Rezension.
Autor: Dale M. Schlitt
ISBN-13 :: 9780820497198
ISBN: 0820497193
Erscheinungsjahr: 13.03.2007
Verlag: Lang, Peter
Gewicht: 628g
Seiten: 369
Sprache: Englisch
Sonstiges: Buch, 231x156x27 mm
Mehr von

Weitere Artikel von