Autor:
Shawn Martinbrough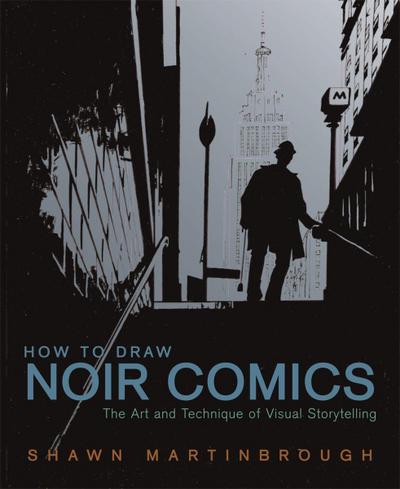 How to Draw Noir Comics
The Art and Technique of Visual Storytelling
Would-be artists discover everything they need to know in order to draw noir comics like a professional using an instructional handbook that covers such techniques as creating mood, staging action, working with a script, characters, lighting, and more, and also includes a new fourteen-page original graphic novel.
Noir is just as powerful in comics as it is in films: dark angles, shadowy, high contrast images, moody lighting, an anti-hero that struggles with moral conflicts. This work walks the reader step-by-step through layout, thumbnails, staging the action and working with actual scripts. It also contains the twenty-two page original graphic novel.
How to Draw Noir Comics: The Art and Technique of Visual Storytelling is an instructional book based on the cinematic, high contrast noir style of acclaimed comic book and graphic novel illustrator, Shawn Martinbrough.

Martinbrough's work has been published by DC Comics, Vertigo and Marvel Comics, illustrating stories ranging from Batman to the X-Men. This is his first book, released through Watson-Guptill Publications and The Nielsen Company.

In How to Draw Noir Comics , Martinbrough shows how the expert use of the color black is critical for drawing noir comics. He demonstrates how to set a mood, design characters and locations, stage action and enhance drama, and discusses important topics like page layout, panel design, and cover design.

How to Draw Noir Comics includes The Truce , an original graphic novel written and illustrated by Martinbrough which incorporates the many lessons addressed throughout the book, and has an introduction by critically-acclaimed novelist Greg Rucka, author of the graphic novel Whiteout , currently in production as a major motion picture.
Autor: Shawn Martinbrough
Shawn Martinbrough illustrates many DC and Marvel comics, includingSuperman, Detective Comics, Batman , and X-Men . Other clients include LucasArts, Playboy, and many others. In 2004, he was named one of "Washington, D.C.'s Best" by The
Washingtonian . He lives in Washington, D.C.
Zu diesem Artikel ist noch keine Rezension vorhanden.
Helfen sie anderen Besuchern und verfassen Sie selbst eine Rezension.
Autor: Shawn Martinbrough
ISBN-13 :: 9780823024063
ISBN: 0823024067
Verlag: St. Martin's Press, Watson Guptill
Gewicht: 595g
Seiten: 144
Sprache: Englisch
Sonstiges: Taschenbuch, 279x216x10 mm, 200 B/W ILLUSTRATIONS