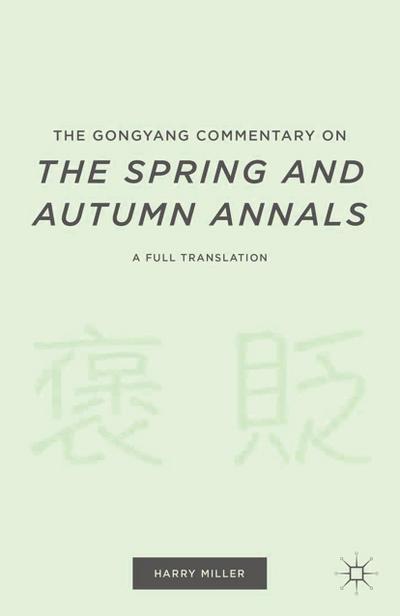 The Gongyang Commentary on The Spring and Autumn Annals
A Full Translation
1. Duke Yin, Part I Duke Yin's reign, year 1 (722 BCE) 2. Duke Yin, Part II Duke Yin's reign, years 2-4 (721-719 BCE) 3. Duke Yin, Part III Duke Yin's reign, years 5-11 (718-712 BCE) 4. Duke Huan, Part I Duke Huan's reign, years 1-6 (711-706 BCE) 5. Duke Huan, Part II Duke Huan's reign, years 7-18 (705-694 BCE) 6. Duke Zhuang, Part I Duke Zhuang's reign, years 1-7 (693-687 BCE) 7. Duke Zhuang, Part II Duke Zhuang's reign, years 8-17 (686-677 BCE) 8. Duke Zhuang, Part III Duke Zhuang's reign, years 18-27 (676-667 BCE) 9. Duke Zhuang, Part IV Duke Zhuang's reign, years 28-32; Duke Min's reign, years 1-2 (666-660- BCE) 10. Duke Xi, Part I Duke Xi's reign, years 1-7 (659-653 BCE) 11. Duke Xi, Part II Duke Xi's reign, years 8-21 (652-639 BCE) 12. Duke Xi, Part III Duke Xi's reign, years 22-33 (638-627 BCE) 13. Duke Wen, Part I Duke Wen's reign, years 1-9 (626-618 BCE) 14. Duke Wen, Part II Duke Wen's reign, years 10-18 (617-609 BCE) 15. Duke Xuan, Part I Duke Xuan's reign, years 1-9 (608-600 BCE) 16. Duke Xuan, Part II Duke Xuan's reign, years 10-18 (599-591 BCE) 17. Duke Cheng, Part I Duke Cheng's reign, years 1-10 (590-581 BCE) 18. Duke Cheng, Part II Duke Cheng's reign, years 11-18 (580-573 BCE) 19. Duke Xiang, Part I Duke Xiang's reign, years 1-11 (572-562 BCE) 20. Duke Xiang, Part II Duke Xiang's reign, years 12-24 (561-549 BCE) 21. Duke Xiang, Part III Duke Xiang's reign, years 25-31 (548-542 BCE) 22. Duke Zhao, Part I Duke Zhao's reign, years 1-12 (541-530 BCE) 23. Duke Zhao, Part II Duke Zhao's reign, years 13-22 (529-520 BCE) 24. Duke Zhao, Part III Duke Zhao's reign, years 23-32 (519-510 BCE) 25. Duke Ding, Part I Duke Ding's reign, years 1-5 (509-505 BCE) 26. Duke Ding, Part II Duke Ding's reign, years 6-15 (504-495 BCE) 27. Duke Ai, Part I Duke Ai's reign, years 1-10 (494-485 BCE) 28. Duke Ai, Part II Duke Ai's reign, years 11-14 (484-481 BCE)
This book is a full translation of the Gongyang Commentary on the Spring and Autumn Annals, a history of the Chinese state of Lu from 722 to 481 BCE, annotated so as to highlight the moral philosophy of its supposed writer, Confucius.
Editiert von: H. Miller
Harrison Miller is Associate Professor at University of South Alabama, USA.
Zu diesem Artikel ist noch keine Rezension vorhanden.
Helfen sie anderen Besuchern und verfassen Sie selbst eine Rezension.
Autor: H. Miller
ISBN-13 :: 9781349505142
ISBN: 1349505145
Erscheinungsjahr: 08.11.2015
Verlag: Palgrave Macmillan US
Gewicht: 403g
Seiten: 320
Sprache: Englisch
Auflage 15001, 1st ed. 2015
Sonstiges: Taschenbuch, 216x140x17 mm
Mehr von

Weitere Artikel von