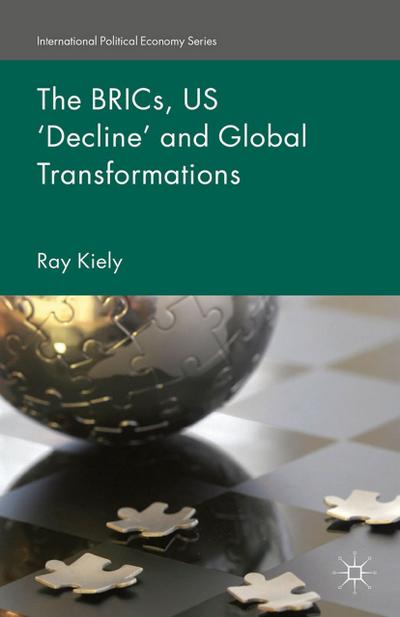 The BRICs, US 'Decline' and Global Transformations
1. Introduction 2. The Rise Of The South? Rising Brics, Declining US? Developmental Change And Transformation Through Convergence Geopolitical Change And Transformation Rising South, Declining West?: Competing Perspectives Conclusions: Issues For Further Consideration 3. The Brics, State Capitalism And Globalisation: Challenge To Or Triumph Of The West? Triumph Of The West? The South And The Opportunities Of Globalisation Challenge To The West? State Capitalism, The China Model And The Beijing Consensus States And Markets In The Development Of The Brics States, Markets And The Question Of Neoliberalism Conclusion 4. The Brics, The South And The International Economy, 1992-2007 Globalisation And The Emerging Markets Boom Of The 1990s Convergence At Last?: The Boom From 2002 To 2007 The Limits Of Convergence, 1992 To 2007 Conclusion 5. The South And The Causes And Consequences Of The Financial Crisis, 2007-14 The Immediate Causes Of The Global Financial Crisis 2008 From Boom To Bust: The International Origins Of The Crisis The Consequences Of The Crisis: The Transformation Of The International Order? Conclusion: Inequality And The Crisis In The US As A Global Crisis 6. Global Inequality And The Rise Of The South The Question Of International Inequality Inequality And Poverty Within Countries Global Inequality Manifested: The Food Crisis And The International Division Of Labour Conclusion 7. The South And Geopolitics: From Bandung To The BRICS? The Third World And The South After 1945 The New South Transforming International Order? Conclusion 8. Conclusion: Development, Innovation And The Limits Of International Transformation The Rise Of The South And Development Theory The Rise Of The South And Technological Innovation The Limits Of International Transformation
The author examines the rise of the BRICs and the supposed decline of the United States. Focusing on the boom years from 1992 to 2007, and the crisis years after 2008, he argues that there are limits to the rise of the former and that the extent of US decline has been greatly exaggerated.
Autor: R. Kiely
Ray Kiely is Professor of Politics at Queen Mary University of London, UK. He is the author of seven previous books including Rethinking Imperialism (2010), The Clash of Globalisations (2005) and Industrialization and Development (1998).
Zu diesem Artikel ist noch keine Rezension vorhanden.
Helfen sie anderen Besuchern und verfassen Sie selbst eine Rezension.
Autor: R. Kiely
ISBN-13 :: 9781349505401
ISBN: 1349505404
Erscheinungsjahr: 01.01.2015
Verlag: Palgrave Macmillan UK
Gewicht: 326g
Seiten: 256
Sprache: Englisch
Auflage 15001, 1st ed. 2015
Sonstiges: Taschenbuch, 216x140x13 mm
Mehr von

Weitere Artikel von