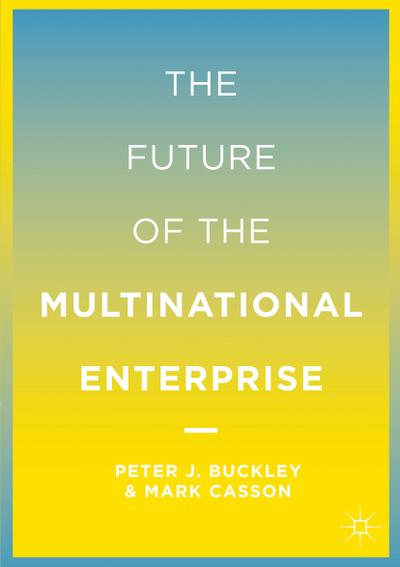 The Future of the Multinational Enterprise
Introduction to the 25th Anniversary Edition Introduction to the Second Edition Preface The Multinational Enterprise in the World Economy A Long-run Theory of the Multinational Enterprise Alternative Theories of the Multinational Enterprise The World's Largest Firms Predictions and Policy Implications Index
This seminal book has revolutionised the field of international business. Presenting the core theory of the multinational enterprise based on the internalisation of imperfect markets and the minimisation of location costs, The Future of Multinational Enterprise has inspired both theoretical and empirical research on the global economy. In addition it has influenced company strategy and economic policy at local, national, regional and international levels. Its insights into company strategy and global policy remain compelling.
Autor: P. Buckley, M. Casson
Peter J Buckley, OBE, FBA, is Professor of International Business and the Founder Director of the Centre for International Business, University of Leeds (CIBUL). He is the Founder Director of the Business Confucius Institute at the University of Leeds and Cheung Kong Scholar Chair Professor in the University of International Business and Economics (UIBE), Beijing. From 2002 - 2004 Peter was President of the Academy of International Business.
Zu diesem Artikel ist noch keine Rezension vorhanden.
Helfen sie anderen Besuchern und verfassen Sie selbst eine Rezension.
Autor: P. Buckley
ISBN-13 :: 9781349508433
ISBN: 1349508438
Erscheinungsjahr: 06.04.2016
Verlag: Palgrave Macmillan
Gewicht: 198g
Seiten: 116
Sprache: Englisch
Auflage Softcover reprint of the original 1st ed. 2002. Softcover Repri
Sonstiges: Taschenbuch, 218x144x12 mm, Bibliographie
Mehr von

Weitere Artikel von