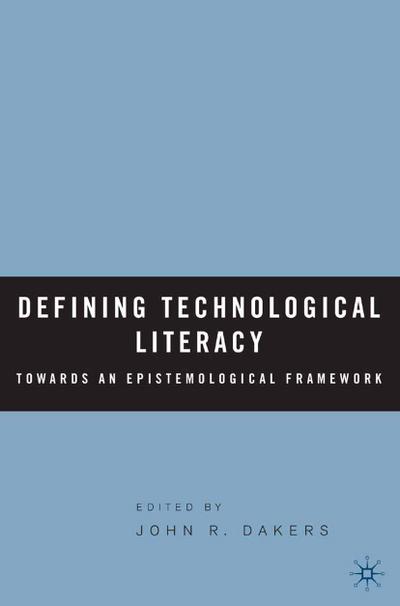 Defining Technological Literacy
Towards an Epistemological Framework
99
PART I Preface Defining Technological Literacy What Is the Philosophy of Technology? How to Understand Mundane Technology: New Ways of Thinking about Human-Technology Relations Understanding the Technological Urge: The Ambiguous Legacy of Techne Towards a Philosophy for Technology Education PART II: DESIGN IN TECHNOLOGY EDUCATION The Design of Design The Designer Fallacy and Technological Imagination PART III: THE NATURE OF TECHNOLOGICAL ACTIVITY Technology and Knowledge: Contributions from Learning Theories Technological Knowledge and Artefacts: An Analytical View Skill in Technology Creative Technological Performance PART IV: TECHNOLOGY, DESIGN AND SOCIETY: IMPLICATIONS FOR TEACHING Gender and Technology: Gender Mediation in School Knowledge Pedagogy to Promote Reflection and Understanding in School Technology Courses "Technology, Design and Society" versus "Science, Technology and Society (STS)": Learning Some Lessons Implicit Theories of Learning: Implications for Technology Education Teachers Human Beings as Technological Artefacts Technology and Ethics PART V: COMPUTERS AND THE WORLD WIDE WEB: CONSEQUENCES FOR TECHNOLOGY AND EDUCATION New Technologies/New Literacies: Redesigning Education in the Contemporary Era Globalization and the Renewal of Technological Literacy Technologizing Pedagogy: The Phenomenology of E-Learning
Never before have we so needed a new literacy that will enable us to meaningfully participate in the rapidly evolving technologically mediated world. This collection offers a solid basis for defining this new technological literacy by bringing together theoretical work encompassing philosophy, design, and pedagogy.

Editiert von: J. Dakers
Wendy Dow, France Andrew Feenberg, Simon Fraser University, Canada J. Britt Holbrook, University of North Texas, USA Don Ihde, Stony Brook University, USA Tim Ingold, University of Aberdeen, UK Richard Kahn, Antioch University, USA Steve Keirl, University of London, UK Douglas Kellner, UCLA, USA Mike Michael, University of Sydney, Australia Carl Mitcham, Colorado School of Mines, USA Michael A. Peters, University of Illinois at Urbana-Champaign, USA Marc J. de Vries, Delft University of Technology, The Netherlands
Zu diesem Artikel ist noch keine Rezension vorhanden.
Helfen sie anderen Besuchern und verfassen Sie selbst eine Rezension.
Autor: J. Dakers
ISBN-13 :: 9781349532063
ISBN: 1349532061
Erscheinungsjahr: 19.05.2006
Verlag: Palgrave Macmillan US
Gewicht: 437g
Seiten: 348
Sprache: Englisch
Auflage 06001, 1st ed. 2006
Sonstiges: Taschenbuch, 216x140x18 mm
Mehr von

Weitere Artikel von