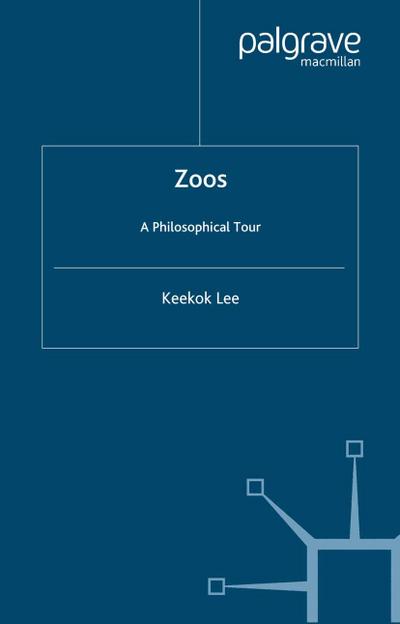 Zoos
A Philosophical Tour
99
Acknowledgements Introduction What Does the Public Find in Zoos? Animals in the Wild? Wild Animals in Captivity: Is this an Oxymoron? De-Contextualised and Re-Contextualised Lifestyle Dislocation and Re-Location Suspension of Natural Evolution Domestication and Immuration Biotic Artefacts Justifications Deemed Serious Justifications Deemed Frivolous Philosophy and Policy Conclusion Appendix: Environmental Enrichment or Enrichment Notes References and Select Bibliography Index
In this book, Keekok Lee asks the question, 'what is an animal, and how does our treatment of it within captivity affect its status as a being ?' This ontological treatment marks the first such approach in looking at animals in captivity. Engaging with the moral questions of zoo-keeping (is it morally justified to keep a wild animal in captivity?) as well as the ontological (what is it that we conserve in zoos after all? A wild animal or its shadow?), Lee develops her own original hypothesis, centred around the concept of 'immuration' - defining this in contrast to domestication - and thereby provides a unique addition to the growing body of work on animal ethics.

Autor: K. Lee
KEEKOK LEE is currently Visiting Chair in Philosophy at the Institute for Environment, Philosophy and Public Policy, Lancaster University, UK. Her research interests include environmental philosophy, philosophy of technology, and the relationship between the environment and technology from the ontological perspective. Published works include Philosophy and Revolutions in Genetics (2002), The Natural and the Artefactual (1999) and Social Philosophy and Ecological Scarcity (1989).
Zu diesem Artikel ist noch keine Rezension vorhanden.
Helfen sie anderen Besuchern und verfassen Sie selbst eine Rezension.
Autor: K. Lee
ISBN-13 :: 9781349540716
ISBN: 1349540714
Erscheinungsjahr: 05.06.2016
Verlag: Palgrave Macmillan
Gewicht: 249g
Seiten: 174
Sprache: Englisch
Sonstiges: Taschenbuch, 216x139x17 mm, Bibliographie
Mehr von

Weitere Artikel von