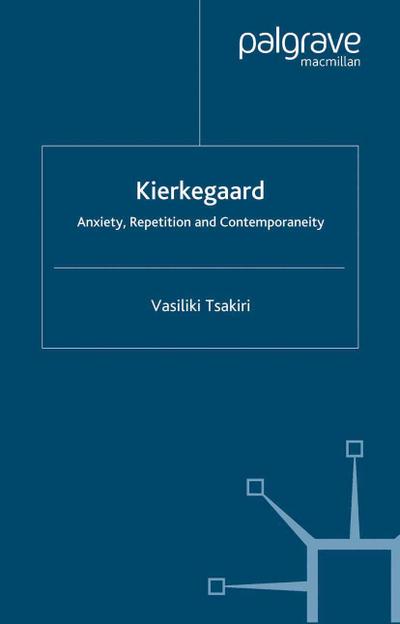 Kierkegaard
REP - Renewing Philosophy
Anxiety, Repetition and Contemporaneity
99
Series Editor's Preface Acknowledgements Abbreviations 'Taking Notice': An Introduction PART I: ANXIETY AND INDIVIDUALITY The Topos of Anxiety Anxiety, Death and the Leap PART II: TIME, HISTORY AND THE FALL: ST. AUGUSTINE AND KANT St. Augustine on Fallen and Redeemed Time History, Fall, Freedom: Reflections on Kant PART III: FREEDOM AND ETERNITY: SCHELLING'S SAGA Schelling's Conception of Freedom and Identity Theo-cosmo-gony: Eternal Past and Human Freedom PART IV: KIERKEGAARD'S CREED OF FAITH: CONTEMPORANEITY AND REPETITION Repetition: A Transcendent Movement Towards Faith Double Contemporaneity, or the Paradox of Repetition Concluding Thoughts Postscript: 'Taking Notice'/On Tarkovsky's Sacrifice Notes Bibliography Index
This work uses the writings of Kierkegaard to offer a novel and challenging way of approaching the concepts of anxiety, repetition, freedom and contemporaneity. Pivotal to this project is a reinterpretation of Kierkegaard's notion of 'taking notice' and its elevation to the status of a central principle which opens up new interpretive dimensions.

Autor: V. Tsakiri
VASILIKI TSAKIRI holds an MA in Philosophy and Social Theory from the University of Warwick, UK and a PhD from Goldsmiths College, University of London, UK. She currently teaches Philosophy at the University of Patras, Greece, and holds a Visiting Departmental Fellowship at the department of History, Goldsmiths College, University of London.
Zu diesem Artikel ist noch keine Rezension vorhanden.
Helfen sie anderen Besuchern und verfassen Sie selbst eine Rezension.
Autor: V. Tsakiri
ISBN-13 :: 9781349540754
ISBN: 1349540757
Erscheinungsjahr: 05.06.2016
Verlag: Palgrave Macmillan
Gewicht: 286g
Seiten: 203
Sprache: Englisch
Sonstiges: Taschenbuch, 216x139x15 mm, Bibliographie
Mehr von

Weitere Artikel von