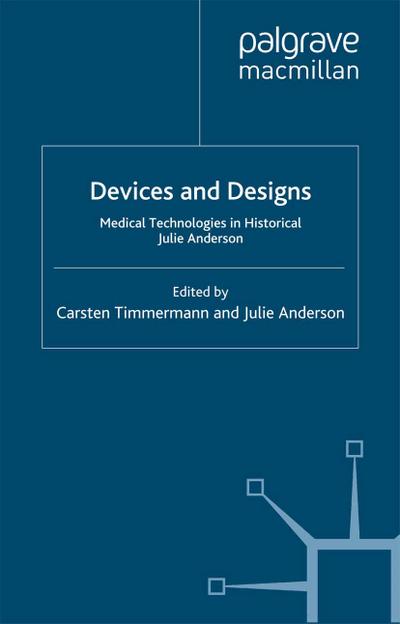 Devices and Designs
Medical Technologies in Historical Perspective
Preface; T.P.Hughes Introduction: Devices, Designs and the History of Technology in Medicine; C.Timmermann & J.Anderson PART 1: TECHNICAL INNOVATION AND THE EMERGING ECONOMIES OF MODERN MEDICINE Bones in Lancashire: Towards Long-term Contextual Analysis of Medical Technology; J.V.Pickstone Mechanising Medicine: Medical Innovations and the Birmingham Voluntary Hospitals in the Nineteenth Century; J.Reinarz Private Laboratories and Medical Expertise in Boston circa 1900; C.Crenner Innovating Expertise: X-ray and Laboratory Workers in the Canadian Hospital, 1920-1950; P.L.Twohig PART II: CONTEXT, CONTINGENCY AND THE LIFE STORIES OF TECHNOLOGIES Artificial Eyes and the Artificialisation of the Human Face; N.Handley 'Biotronik': 40 Years of German Entrepreneurship in Medical Technology; P.Hidefjäll Building Science-based Medicine at Stanford: Henry Kaplan and the Medical Linear Accelerator, 1948-1975; T.Ueyama & C.Lécruyer Hexamethonium, Hypertension, and Pharmaceutical Innovation: The Transformation of an Experimental Drug in Post-war Britain; C.Timmermann Greenhouses and Body Suits: The Challenge to Knowledge in Early Hip Replacement Surgery 1960-1982; J.Anderson PART III: EXPECTATIONS, OUTCOMES AND ENDPOINTS From Epidemic to Scandal: The Politicization of Antibiotic Resistance, 1957-69; R.Bud Cancer Clinical Trials and the Transfer of Medical Knowledge: Metrology, Contestation and Local Practice; G.Kutcher 'The Best Bones in the Graveyard': Risky Technologies and Risks in Knowledge; S.Wyatt & F.Henswood The Politics of Endpoints; S.Blume
In this volume, leading scholars in the history and sociology of medicine focus their attention on the material cultures of health care. They analyze how technology has become so central to medicine over the last two centuries and how we are coping with the consequences.
Editiert von: J. Anderson, C. Timmermann
STUART BLUME Professor of Science Dynamics in the Department of Sociology and Anthropology, University of Amsterdam, The Netherlands ROBERT BUD Principal Curator of Medicine at the London Science Museum, UK
CHRISTOPHER CRENNER Associate Professor and Chair of the Department of the History and Philosophy of Medicine and Internal Medicine at the University of Kansas School of Medicine, USA
NEIL HANDLEY Curator of the British Optical Association Museum at the College of Optometrists in London, UK
FLIS HENSWOOD Reader in Social Informatics at the University of Brighton, UK
PATRIK HIDEFJÄLL Marketing Director, Gothia Medical
THOMAS P. HUGHES Mellon Professor Emeritus of the History of Science at the University of Pennsylvania and Distinguished Visiting Professor at the Massachusetts Institute of Technology, USA
GERALD KUTCHER Dean's Professor of the History of Medicine, The State University of New York, Binghamton, USA
CHRISTOPHE LÉCUYER Research Historian and Program Manager at the Chemical Heritage Foundation
JOHN V. PICKSTONE Research Professor in the Centre for the History of Science, Technology and Medicine (CHSTM), University of Manchester, UK
JONATHAN REINARZ Lecturer at the Centre for the History of Medicine at Birmingham Medical School, UK
PETER L. TWOHIG Canada Research Chair and Associate Professor at Saint Mary's University, Halifax, Nova Scotia, Canada
TAKAHIRO UEYAMA Professor in the Faculty of Economics at Sophia University in Tokyo, Japan
SALLY WYATT Amsterdam School of Communications Research (ASCoR), University of Amsterdam, The Netherlands
Zu diesem Artikel ist noch keine Rezension vorhanden.
Helfen sie anderen Besuchern und verfassen Sie selbst eine Rezension.
Autor: J. Anderson
ISBN-13 :: 9781349540914
ISBN: 1349540919
Erscheinungsjahr: 31.10.2006
Verlag: Palgrave Macmillan UK
Gewicht: 379g
Seiten: 300
Sprache: Englisch
Auflage 06001, 1st ed. 2006
Sonstiges: Taschenbuch, 216x140x16 mm
Mehr von

Weitere Artikel von
Mehr zum Thema