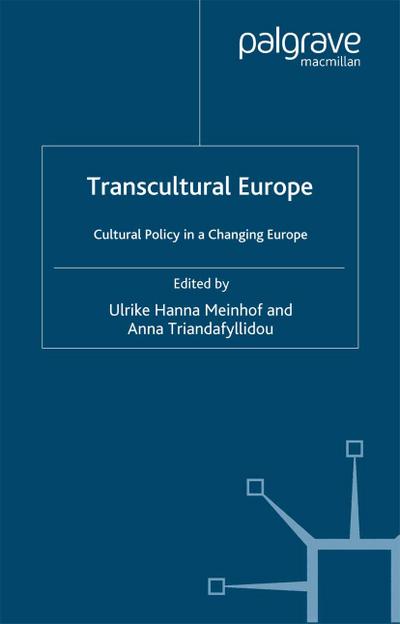 Transcultural Europe
Cultural Policy in a Changing Europe
List of Figures Acknowledgements Notes on the Contributors Transcultural Europe: An Introduction to Cultural Policy in a Changing Europe; U.H.Meinhof & A.Triandafyllidou PART 1: CULTURAL POLICY IN EUROPE An Overview of Issues The Logic of Europeanizing Cultural Policy Making; M.Sassatelli Imagined or Real Divides?; M.D.Sesic & S.Dragojevic Perspectives on Cultural Diversity: A Discourse Analytical Approach; N.Kiwan & U.H.Meinhof Challenge of Migrants for a New Take on Europe; A.Aksoy PART 2: URBAN AND METROPOLITAN PERSPECTIVES The 'Whiteness' of Cultural Policy in Paris and Berlin; N.Kiwan & K.Kosnick London and the Project of Urban Cosmopolitanism; A.Aksoy Despite and Beyond Cultural Policy: Third and Fourth Sector Practices and Strategies in Vienna and Belgrade; M.Böse, B.Busch & M.D.Sesic Urban Cultural Policy and Immigrants in Rome: Multiculturalism or Simply 'Paternalism'?; A.Kosic & A.Triandafyllidou PART 3: TRANSNATIONAL AND TRANSCULTURAL CONNECTIONS Beyond the Diaspora: Transnational Practices as Transcultural Capital; U.H.Meinhof & A.Triandafyllidou The Three Nexal Registers: Identity, Peripheral Cultural Industry, Alternative Cultures; N.Janovic & R.Mocnik Towards a Transcultural Policy for European Cosmopolitanism; K.Robins Index
What are the key issues facing the makers of European cultural policy in the 2lst century? How is cultural policy at the metropolitan, national and European level addressing recent developments that are complicating the cultural and social realities of contemporary Europe?
This book offers an innovative assessment of these questions and aims to provoke debates about the way forward for cultural policy in Europe. Based on extensive theoretical and empirical research by an interdisplinary team of international scholars, this volume critically addresses the way in which cultural policy has evolved until now, and develops new conceptual and theoretical perspectives for re-imagining cultural change and complexity. The book offers an interesting set of studies on transcultural flows between some major European metropoles (such as Berlin, London and Paris), on the rather closed realities of other European capitals (like Rome or Ljubljana) as well as on new cultural trends emerging in cities both at the heart and at the periphery of Europe (Vienna and Belgrade). Each contribution questions the relationship between cultural diversity, cultural policy and immigration. The book thus provides new insights into the limitations of the national framework for cultural policy and into the emerging transnational dynamics in European cities.
Editiert von: U. Meinhof
ASU AKSOY Research Associate at Goldsmiths College, University of London, UK
BRIGITTA BUSCH Senior Research Fellow at Department of Applied Linguistics, University of Vienna, Austria
SANJIN DRAGOJEVIC Teaches Sociology of Culture, Sociology of Mass Communication and Cultural Policy at the Faculty of Political Sciences, Zagreb, Croatia
NADIA KIWAN Post-Doctoral Research Fellow in the School of Humanities, University of Southampton, UK
ANKICA KOSIC Research Fellow at the European University Institute, Florence, Italy
KIRA KOSNICK Post-Doctoral Research Fellow at the University of Southampton, UK
RASTO MOCNIK Teaches Theory of Discourse and Epistemology of the Humanities and Social Sciences at the Unviersity of Ljbljana, Slovenia
KEVIN ROBINS Professor of Communications at Goldsmiths College, University of London, UK
MONICA SASSATELLI Jean Monnet Fellow at the Robert Schuman Centre of Advanced Studies, European University Institute, Florence, Italy
MILENA DRAGICEVIC SESIC Professor of Cultural Studies and Cultural Management at the Unviersity of Arts, Belgrade, Serbia
Zu diesem Artikel ist noch keine Rezension vorhanden.
Helfen sie anderen Besuchern und verfassen Sie selbst eine Rezension.
Autor: U. Meinhof
ISBN-13 :: 9781349546145
ISBN: 1349546143
Erscheinungsjahr: 01.01.2006
Verlag: Palgrave Macmillan UK
Gewicht: 413g
Seiten: 328
Sprache: Englisch
Auflage 06001, 1st ed. 2006
Sonstiges: Taschenbuch, 216x140x17 mm
Mehr von

Weitere Artikel von
Mehr zum Thema