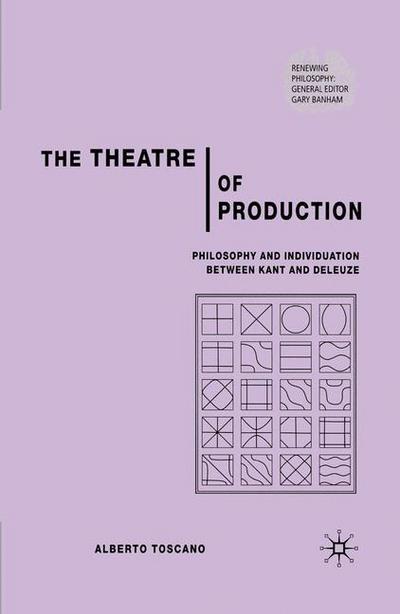 The Theatre of Production
Philosophy and Individuation Between Kant and Deleuze
99
Series Editor's Preface Acknowledgements Preface Introduction: From the Intelligible to the Genetic PART I: KANT BEYOND KANT, OR, THE ANOMALIES OF THE ORGANIC The Paradoxical Object: On Self-Organizing Beings in the Critique of Judgment The Fate of Self-Organization: From Natural Machines to the Philosophy of the Organism The Method of Nature, the Crisis of Critique: Life, Multiplicity and the Genesis of the Intellect in Nietzsche's Early Notebooks PART II: ELEMENTS FOR AN ONTOLOGY OF ANOMALOUS INDIVIDUATION Systems of Habit: Ravaisson, James, Peirce Tertium Datur? Gilbert Simondon's Relational Onology The Drama of Being: Figures of Individuation in Deleuze's Philosophy of Difference Conclusion: Becoming-Individual Notes Bibliography Index
This book provides a historical analysis of the philosophical problem of individuation, and a new trajectory in its treatment. Drawing on the work of Gilles Deleuze, C.S. Peirce and Gilbert Simondon, the problem of individuation is taken into the realm of modernity. This is a vibrant contribution to contemporary debates in European philosophy.

Autor: A. Toscano
ALBERTO TOSCANO is a lecturer in sociology and a member of the Centre for the Study of Invention and Social Process at Goldsmiths College. He is the author of articles on Schelling, Simondon and Badiou, as well as the co-editor of Alain Badiou's Theoretical Writings and On Beckett. His current research focuses on the link between contemporary ontology and the idea of communism.
Zu diesem Artikel ist noch keine Rezension vorhanden.
Helfen sie anderen Besuchern und verfassen Sie selbst eine Rezension.
Autor: A. Toscano
ISBN-13 :: 9781349546626
ISBN: 1349546623
Erscheinungsjahr: 01.01.2006
Verlag: Palgrave Macmillan UK
Gewicht: 335g
Seiten: 264
Sprache: Englisch
Auflage 06001, 1st ed. 2006
Sonstiges: Taschenbuch, 216x140x14 mm
Mehr von

Weitere Artikel von
Mehr zum Thema