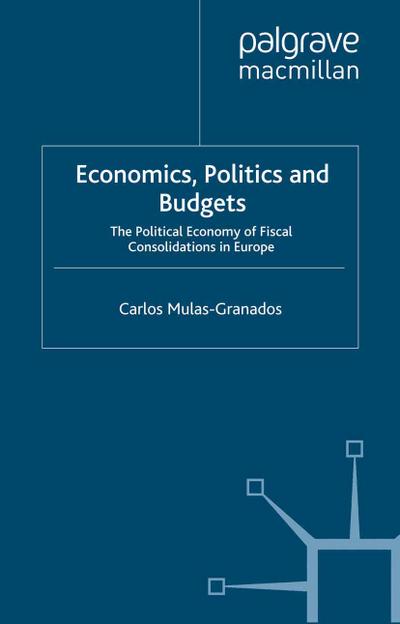 Economics, Politics and Budgets
The Political Economy of Fiscal Consolidations in Europe
99
List of Tables List of Figures Abbreviations Acknowledgements PART 1: INTRODUCTION Strategies of Fiscal Adjustment Economic and Political Factors Influencing the Adoption of Different Strategies Economic and Political Consequences of Adopting Different Strategies A Summary of the Book's Argument The Structure of the Study PART 2: ECONOMICS, POLITICS AND FISCAL POLICY Governments and Economic Policy Fiscal Policies in the European Union, 1970-2000 The Economics of Fiscal Policies and Fiscal Adjustments The Politics of Fiscal Policies and Fiscal Adjustments Conclusion PART 3: TIMING AND DURATION OF FISCAL ADJUSTMENTS What is a Fiscal Adjustment? Strategies of Fiscal Adjustment: Timing, Duration and Composition The Timing of Fiscal Adjustments: When do they Occur? The Duration of Fiscal Adjustments in the European Union Economic and Political Factors during Stronger Consolidations Conclusion PART 4: THE COMPOSITION OF FISCAL ADJUSTMENTS Why is the Composition Budget Important? Economics, Politics, and Composition of the Budget Composition of the Budget during Fiscal Adjustments Conclusion PART 5: FISCAL ADJUSTMENTS IN THE 1990s: CASE STUDIES The Maastricht Treaty and the Decision of Monetary Union Case Studies: Complying with the Maastricht Criteria and the Influence of Political Variables Conclusion PART 6: THE ECONOMIC CONSEQUENCES OF FISCAL ADJUSTMENTS Fiscal Policy and Macroeconomy THe economic Impact of Fiscal Adjustments THe Economic Impact of Fiscal Adjustments during the 1990s Conclusion PART 7: THE POLITICAL CONSEQUENCES OF FISCAL ADJUSTMENTS Fiscal policy, Elections and Government's Accountability The Electoral Consequences of Fiscal Adjustments Changing Public Opinion towards Fiscal Adjustments Conclusion PART 8: CONCLUSION Appendices Statistical Annex Notes and References Bibliography Index
Motivated by the proliferation of fiscal consolidation episodes in the advent of Monetary Union, this book explains the causes and consequences of fiscal policy in Europe, using theory and empirical evidence from the last four decades.

Autor: C. Mulas-Granados
CARLOS MULAS-GRANADOS is Ramón y Cajal Research Fellow in the Applied Economics Department at Complutense University of Madrid.
Zu diesem Artikel ist noch keine Rezension vorhanden.
Helfen sie anderen Besuchern und verfassen Sie selbst eine Rezension.
Autor: C. Mulas-Granados
ISBN-13 :: 9781349547838
ISBN: 1349547832
Erscheinungsjahr: 05.06.2016
Verlag: Palgrave Macmillan
Gewicht: 428g
Seiten: 316
Sprache: Englisch
Sonstiges: Taschenbuch, 216x139x22 mm, Bibliographie
Mehr von

Weitere Artikel von