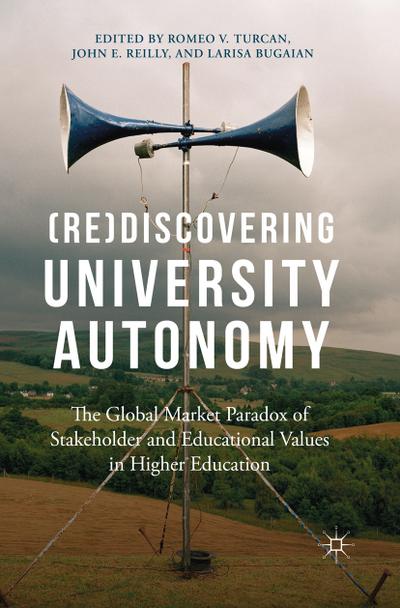 (Re)Discovering University Autonomy
The Global Market Paradox of Stakeholder and Educational Values in Higher Education
PART I: INTRODUCTION1. The Challenge of University Autonomy; John E. Reilly, Romeo V. Turcan, Larisa Bugaian
PART II: GOVERNMENT-UNIVERSITY INTERFACE
2. Higher Education, Governance, and Academic Freedom; William M. Bowen, Michael Schwartz
3. Cultural and Constitutional Embeddedness of University Autonomy in Lithuania; Zilvinas Martinaitis, Simonas Gausas, Agn Paliokait
4. Higher Education in India at Crossroads: The Imperative for Transcending Stagnation and Embracing Innovation; Sharad Sarin, Nikhilesh Dholakia
5. University Autonomy in the Age of Marketisation; Colin Simpson, Marin Marinov
PART III: UNIVERSITY-ACADEMIC STAFF INTERFACE
6. University-Staff Tensions in Implementing Human Resource Autonomy in Practice: The Example of Moldova; Larisa Bugaian, Ala Cotelnic, Angela Niculita, Daniela Pojar, Petru Todos, Romeo V. Turcan
7. Staff Evaluation Systems - Shaping Autonomy through Stakeholders; Mikael Collan, Jan Stoklasa, Jana Talasova
8. Institutional Financial Autonomy in Practice: A Departmental Perspective; Witold Szwebs
PART IV: ACADEMIC STAFF-STUDENTS INTERFACE
9. When Students Take the Lead; Erik de Graaff, Jette Egelund Holgaard, Pia Bøgelund, Claus Monrad Spliid
10. Autonomy Produces Unintended Consequences: Funding Higher Education through Vouchers in Lithuania; Simona Svaikauskien , Birut Mikulskien
PART V: UNIVERSITY-BUSINESS INTERFACE
11. Autonomy Mediated through University-Business Collaboration; Olav Jull Sørensen
12. Industry-Academia-Government Cooperation in Japan: The Pivotal Role of the University and Implications for Autonomy; Yukiko Yamaguchi, Nikhilesh Dholakia
PART VI: UNIVERSITY-INTERNATIONALIZATION INTERFACE
13. Combining Internationalization and Autonomy: The Case of Russia; Andrei Panibratov, Lyubov Ermolaeva
14. Autonomy and the Realities of Internationalization in Australian Universities: An Institutional Logics Perspective; Mark Tayar, Robert Jack
15. University Internationalization and University Autonomy: Toward a Theoretical Understanding; Romeo V. Turcan, Valeria Gulieva
PART VII: CONCLUSIONS
16. (Re)Discovering University Autonomy; John E. Reilly, Romeo V. Turcan, Larisa Bugaian
(Re)Discovering University Autonomy has far reaching implications for leaders and managers, researchers, educators, practitioners, and policy makers by addressing modern challenges to university autonomy in Europe and beyond in a new and innovative way.
Editiert von: Romeo V. Turcan, John E. Reilly, Larissa Bugaian
Author Romeo V. Turcan: Romeo V. Turcan is Associate Professor of International Business and Entrepreneurship at the Department of Business Studies at Aalborg University, Denmark. His main research interests relate to cross-disciplinary theory building, and new sector and new venture legitimation. Turcan founded and co-coordinates the Theory Building Research Programme and the PhD course on Theorizing and Theory Building in Management Research; he also coordinates a large TEMPUS project on Enhancing University Autonomy in Moldova. Turcan has business experience in the NGO, power, oil, military high-tech, and management consulting sectors. Author John E. Reilly: John E. Reilly is a Higher Education Consultant with extensive experience of European and International Higher Education. With Ard Jongsma, Reilly has produced studies for the European Commission on University Governance and Management, and on University Quality Assurance in the Tempus countries. Other areas of interest are: credit and recognition systems, in particular the European credit and accumulation system; student and staff mobility; work placements; tuning methodology approach to curriculum development; joint program of study in all three cycles (bachelor, master, doctorate); the European Higher Education Area and the Bologna Process; developments in higher education in Africa. Author Larisa Bugaian: Larisa Bugaian is Professor of Economics and Management and Vice-Rector of Research at the Technical University of Moldova. Her main research interests are in economics, management, entrepreneurship, and business development. Bugaian is one of the higher education reform experts on the implementation of the Bologna agreement in Moldova, and a member of the Bologna Structural Reforms Working Group and Bologna Ad-Hoc Working Group on the Third Cycle. She has extensive experience in the field of consultancy and training managers and consultants within a number of international projects funded by USAID, TACIS, and the World Bank.
Zu diesem Artikel ist noch keine Rezension vorhanden.
Helfen sie anderen Besuchern und verfassen Sie selbst eine Rezension.
Autor: Romeo V. Turcan
ISBN-13 :: 9781349552122
ISBN: 1349552127
Erscheinungsjahr: 26.04.2016
Verlag: Palgrave Macmillan
Gewicht: 434g
Seiten: 268
Sprache: Englisch
Sonstiges: Taschenbuch, 233x158x17 mm, Bibliographie