Autor:
Susanne N. Beechey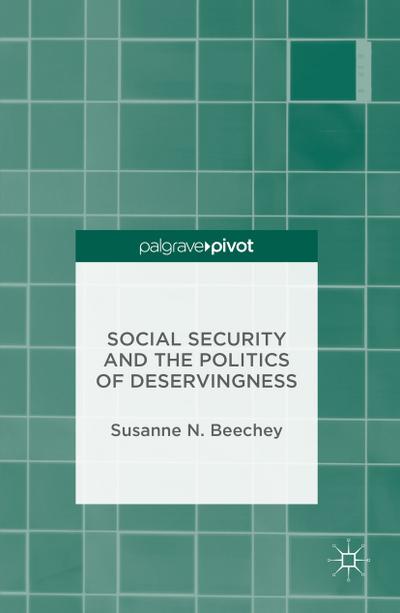 Social Security and the Politics of Deservingness
Provides timely insight into the largest and most important social policy in the United States
Chapter One: Introduction Chapter Two: Social Security Today Chapter Three: The Politics of Deservingness Chapter Four: My Family Member as the Deserving Face of Social Security Chapter Five: Challenging the Politics of Deservingness Chapter Six: Social Security Tomorrow Endnotes
This book seeks to understand the politics of deservingness for future Social Security reforms through an interpretive policy analysis of the 2005 Social Security privatization debates. What does it mean for politics and policymaking that Social Security recipients are widely viewed as deserving of the benefits they receive? In the 2005 privatization debates, Congress framed Social Security in exclusively positive terms, often in opposition to welfare, and imagined their own beloved family members as recipients. Advocates for private accounts sought to navigate the politics of deservingness by dividing the "we" of social insurance to a "me" of private investment and a "them" of individual rate of return in order to justify the introduction of private accounts into Social Security. Fiscal stress on the program will likely bring Social Security to the policy agenda soon. Understanding the politics of deservingness will be central to navigating those debates.
Autor: Susanne N. Beechey
Susanne N. Beechey is Assistant Professor of Politics, Whitman College, USA.
Zu diesem Artikel ist noch keine Rezension vorhanden.
Helfen sie anderen Besuchern und verfassen Sie selbst eine Rezension.
Autor: Susanne N. Beechey
ISBN-13 :: 9781349918898
ISBN: 134991889X
Erscheinungsjahr: 10.06.2016
Verlag: Springer-Verlag GmbH
Gewicht: 307g
Seiten: 122
Sprache: Englisch
Sonstiges: Buch, 218x151x15 mm, Bibliographie
Mehr von

Weitere Artikel von