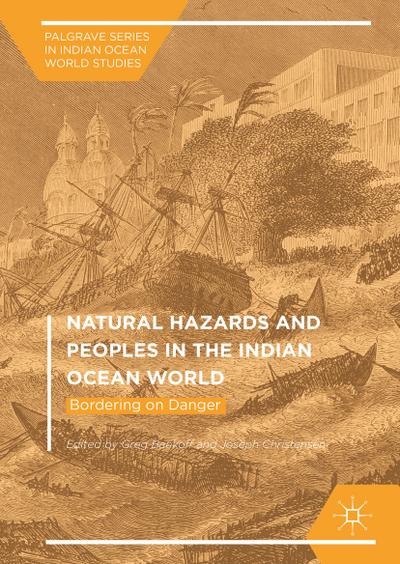 Natural Hazards and Peoples in the Indian Ocean World
Palgrave Series in Indian Ocean World Studies
Bordering on Danger
99
.1. Revisiting Southeast Asian history with geology: some demographic consequences of a dangerous environment
Anthony Reid. .- 2. 'The sea becomes mulberry fields and mulberry fields become the sea': dikes in the eastern Red River delta, c.200 BCE to the Twenty-first century CE Tana Li. .- 3. 'The most horrible of evils': Social responses to drought and famine in the Bombay Presidency, 1782-1857 George Adamson. .- 4. Philippine Typhoons since the seventeenth century James Francis Warren. .- 5. Bushfire in Madagascar: natural hazard, useful tool and change agent Christian Kull. .- 6. Emperor T c's 'Bad Weather': Interpreting Natural Disasters in Vietnam, 1847-1883 Kathryn Dyt. .- 7. Storm over San Isidro: Repeated disasters and civic community culture in nineteenth century Philippines Greg Bankoff. .- 8. Disaster management and colonialism in the Indonesian archipelago, 1840-1920 Alicia Schrikker. .- 9. Cyclones, Drought, and Slavery: Environment and Enslavement in the Western Indian Ocean, 1870s-1920s Matthew S. Hopper. .- 10. Their inescapable portion? Cyclones, disaster relief, and the political economy of pearlshelling in Northwest Australia, 1865-1935 Joseph Christensen.
This
book examines the dangers and the patterns of adaptation that emerge through
exposure to risk on a daily basis. By addressing the influence of environmental factors in Indian Ocean
World history, the collection reaches across the boundaries of the natural and
social sciences, presenting case-studies that deal with a diverse range of
natural hazards - fire in Madagascar, drought in India, cyclones and typhoons in
Oman, Australia and the Philippines, climatic variability, storms and flood in
Vietnam and the Philippines, and volcanic eruptions, earthquakes and tsunamis
in Indonesia. These chapters, written by leading international historians,
respond to a growing need to understand the ways in which natural hazards shape
social, economic and political development of the Indian Ocean World, a region
of the globe that is highly susceptible to the impacts of seismic activity,
extreme weather, and climate change.

Editiert von: Greg Bankhoff, Joseph Christensen
Greg Bankoff is Professor of Modern History at the University of Hull, United Kingdom. He has worked and published extensively on both the historical dimension of how societies adapt to risk as well as engaged with contemporary civil defence and emergency management practices in Asia, Australasia and more recently in Europe. His most recent publications include co-authoring The Red Cross's World Disaster Report 2014: Culture and Risk and a companion coedited volume entitled Cultures and Disasters: Understanding Cultural Framings in Disaster Risk Reduction (2015).


Joseph Christensen is a Postdoctoral Fellow at the Asia Research Centre, Murdoch University, Australia, where he works in the fields of maritime and environmental history. He obtained a BA and PhD from the University of Western Australia. He is co-editor of Historical Perspectives of Fisheries Exploitation in the Indo-Pacific (2014).
Zu diesem Artikel ist noch keine Rezension vorhanden.
Helfen sie anderen Besuchern und verfassen Sie selbst eine Rezension.
Autor: Greg Bankhoff
ISBN-13 :: 9781349948567
ISBN: 134994856X
Erscheinungsjahr: 01.08.2016
Verlag: Palgrave Macmillan
Gewicht: 572g
Seiten: 318
Sprache: Englisch
Sonstiges: Buch, 218x154x25 mm, 27 schwarz-weiße Abbildungen, 10 schwarz-weiße Tabellen, Bibliographie
Mehr von

Weitere Artikel von