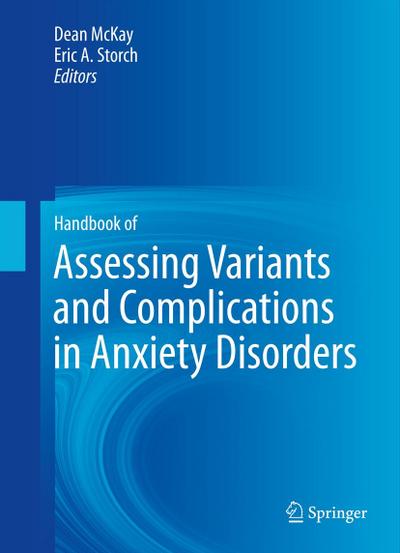 Handbook of Assessing Variants and Complications in Anxiety Disorders
99
Section I: Complexities in Assessment of Primary Anxiety Conditions .- Chapter 1: Assessment of Social and Generalized Anxiety Disorder.- Chapter 2: Assessment and Treatment of Deficits in Social Skills Functioning and Social Anxiety In Children Engaging in School Refusal Behaviors.- Chapter 3: Assessment of Selective Mutism and School Refusal Behavior.- Chapter 4: Neuropsychological Assessment of Obsessive-Compulsive Disorder.- Chapter 5: Assessment of Tics and Comorbid Obsessive-Compulsive Symptoms.- Chapter 6: Intelligence Testing and Treatment Planning with Children.- Section II: Complexities in Assessment of Personality and Behavioral Disturbance Associated with Anxiety Conditions .- Chapter 7: Assessment of Substance Abuse and Dependence in Anxiety Disorders.- Chapter 8: Functional Assessment of Comorbid and Secondary Disorders: Identifying Conditions for Primary Treatment.- Chapter 9: Assessment of Suicidal and Non-Suicidal Self-Injury in Anxiety Disorders.- Chapter 10: Assessment of Anxiety Symptoms Using the MMPI-2, MMPI-2-RF, and MMPI-A.- Chapter 11: Anxiety Disorders & Evidence-Based Practice: The Role of Broadband Self-Report Measures of Personality in Diagnosis, Case Conceptualization & Treatment Planning.- Chapter 12: Contemporary Personality Disorder Assessment in Clients with Anxiety Disorders.- Chapter 13: Projective Personality Assessment of Anxiety: A Critical Appraisal.- Chapter 14: Assessment of Insight and Overvalued Ideation in Obsessive-Compulsive Disorder.- Chapter 15: Assessment of Disruptive Behavior Disorders in Anxiety.- Chapter 16: Assessing Complexities in Anxiety Disorders: Consideration of Future Directions.
The Handbook of Assessing Variants and Complications in Anxiety Disorders assembles current findings on assessment methods and applies them to common complicating factors, including comorbid personality and behavioral problems. Chapters examine innovative approaches to assessment of anxiety in children and adults, provide leading insights into timely topics (e.g., school refusal, self-injurious behaviors), and analyze strengths and weaknesses of widely used assessment tools. In clarifying the assessment process, contributors give readers a clear perspective on choosing treatment options in keeping with the trend toward targeted, evidence-based practice, and pinpoint needs for further research. The Handbook 's coverage spans the anxiety spectrum, including areas such as:
Assessment of social and generalized anxiety disorder.
Neuropsychological assessment of obsessive-compulsive disorder.
Intelligence testing and treatment planning with children.
Assessment of substance abuse and dependence in anxiety disorders.
Personality disorder assessment in clients with anxiety disorders.
Functional assessment of comorbid and secondary disorders: identifying conditions for primary treatment.

The Handbook of Assessing Variants and Complications in Anxiety Disorders is an essential reference for researchers, scientist-practitioners, and graduate students in clinical child, school, and developmental psychology; social work; psychiatry; psychotherapy; counseling; and pediatrics. And its companion volume, the Handbook of Treating Variants and Complications in Anxiety Disorders , translates these findings to the next stage of care.

Editiert von: Dean McKay, Eric A. Storch
Dean McKay, Ph.D., ABPP, is Professor, Department of Psychology, Fordham University. He currently serves on the editorial boards of Behaviour Research and Therapy, Behavior Modification, Behavior Therapy, and Journal of Anxiety Disorders and is Editor-in-Chief of Journal of Cognitive Psychotherapy. Dr. McKay is President-elect of the Association for Behavioral and Cognitive Therapies (Presidential term 2013-2014). He has published more than 130 journal articles and book chapters and has more than 150 conference presentations. He is Board Certified in Behavioral and Clinical Psychology of the American Board of Professional Psychology (ABPP), and is a Fellow of the American Board of Behavioral Psychology and the Academy of Clinical Psychology. He is also a Fellow the American Psychological Society. Dr. McKay has edited or co-edited eight books dealing with treatment of complex cases in children and adults, obsessive-compulsive disorder, disgust in psychopathology, and research methodology. His research has focused primarily on Obsessive-Compulsive Disorder (OCD), Body Dysmorphic Disorder, and Hypochondriasis and their link to OCD as well as the role of disgust in psychopathology. His research has also focused on mechanisms of information processing bias for anxiety states. Dr. McKay is also director and founder of Institute for Cognitive Behavior Therapy and Research, a private treatment and research center in Westchester County, New York.
Zu diesem Artikel ist noch keine Rezension vorhanden.
Helfen sie anderen Besuchern und verfassen Sie selbst eine Rezension.
Autor: Dean McKay
ISBN-13 :: 9781461464518
ISBN: 146146451X
Erscheinungsjahr: 10.04.2013
Verlag: Springer-Verlag GmbH
Gewicht: 662g
Seiten: 255
Sprache: Englisch
Sonstiges: Buch, 264x182x23 mm, 1 schwarz-weiße Abbildungen