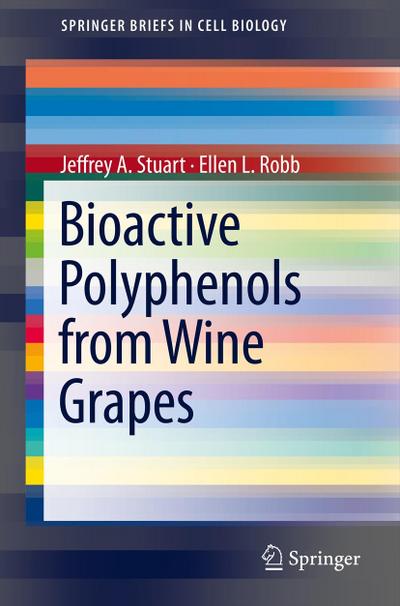 Bioactive Polyphenols from Wine Grapes
SpringerBriefs in Cell Biology
A succinct yet detailed look at the health benefits of red wine, covering everything from the biochemistry of 'how' and 'why' to the actual benefits Discusses very specific and timely effects: cardiovascular, cerebrovascular, anti-proliferative (including cancer cell growth), metabolic including obesity and diabetes and more, including anti-aging
Both authors are internationally recognized, familiar names in the¿ field
Resveratrol and its Derivatives as Phytoalexins.- Health Effects of Resveratrol and its Derivatives.- Cellular and Molecular Mechanisms of Resveratrol and its Derivatives.- Bioavailability of Resveratrol, Pterostilbene, and Piceid.- General Discussion and Future Considerations.
Is red wine good for you? And if so, why? How much? And what are the actual benefits? This addition to the SpringerBriefs in Cell Biology series thoroughly but succinctly answers these questions. It covers the biochemistry, health benefits and therapeutic potential of wine grapes. It begins with an overview of phytoalexin production in Vitis vinifera (Common Grape Vine), detailing the relationship of resveratrol to analogues such as pterostilbene, piceid and the viniferins (resveratrol oligomers). The discussion then turns to the hundreds of reports linking resveratrol and related grape vine polyphenols to various beneficial health effects especially cardio- and cerebro- vascular, metabolic, anti-inflammatory and more. Also addressed are the numerous intracellular mechanisms that have been shown to mediate the effects of these compounds in mammalian cells and tissues. Finally, the authors discuss aspects of polyphenol bioavailability and how this will influence choices taken for delivering these compounds as nutritional supplements. A brief chapter containing general conclusions and prospectus rounds out the information.
Autor: Jeffrey A. Stuart, Ellen L. Robb
Dr. Jeffrey A. Stuart is CCOVI Fellow and Associate Professor of Biological Sciences at Brock University in Ontario, Canada. He received both his BSc in Biology and his PhD in Zoology at University of Guelph, in Ontario. He teaches Human Physiology, Cell Physiology and Bioenergetics. His research interest focuses mainly on biological activities of resveratrol and other red-wine polyphenols and the molecular mechanisms underlying longevity. Ellen L. Robb is a PhD candidate in Biology. In 2009, she won the Vanier Canada Graduate Scholarship to use in pursuing her studies into the cellular mechanisms underlying the positive health effects of resveratrol, an active ingredient in red wine. She has worked in Dr. Stuart's lab since 2006.
Zu diesem Artikel ist noch keine Rezension vorhanden.
Helfen sie anderen Besuchern und verfassen Sie selbst eine Rezension.
Autor: Jeffrey A. Stuart
ISBN-13 :: 9781461469674
ISBN: 1461469678
Erscheinungsjahr: 16.04.2013
Verlag: Springer-Verlag GmbH
Gewicht: 135g
Seiten: 66
Sprache: Englisch
Sonstiges: Taschenbuch, 241x156x15 mm, 10 schwarz-weiße Abbildungen, 4 schwarz-weiße Tabellen
Mehr von

Weitere Artikel von