Autor:
Massimiliano Caramia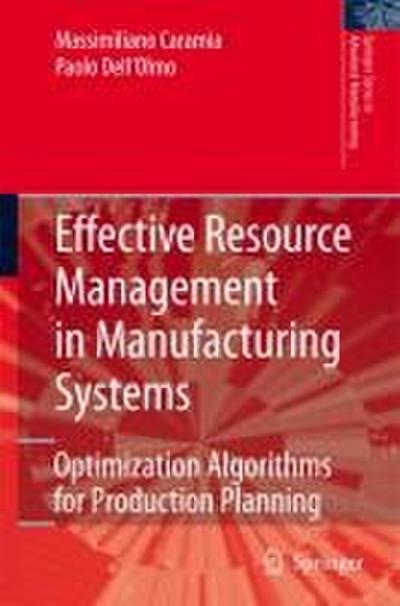 Effective Resource Management in Manufacturing Systems
Springer Series in Advanced Manufacturing
Optimization Algorithms for Production Planning
Offers solutions to management problems located in the boundaries between operational and tactical areas of manufacturing systems
Manufacturing Systems: Trends, Classification, Behaviour Patterns, and Functionalities On-Line Load Balancing Resource Levelling Scheduling Jobs in Robotized Cells with Multiple Shared Resources Tool Management on Flexible Machines
Manufacturing systems, regardless of their size, have to work with scarce resources in dynamic environments. Effective Resource Management in Manufacturing Systems aims to provide methods for achieving effective resource allocation and to solve related problems that occur daily and often generate cost overruns. This book will be bought by postgraduate students of business, engineering and computer science as well as researchers in these fields. It will also be of interest to practitioners in manufacturing systems and operations managers in industry.
Autor: Massimiliano Caramia, Paolo Dell'Olmo
Paolo Dell'Olmo received his Laurea Degree in Electronic Engineering at the University of Rome "La Sapienza", Italy. He became a full professor in Operations Research in 2000. He has been a visiting scholar at the Department of Systems and Industrial Engineering of University of Arizona (1992-93), a visiting professor at the Operation Research Center of MIT (1998). Currently, he is: Head of the Department of Statistics, Probability and Applied Statistics at the University of Rome "La Sapienza", he is also a Director of the Masters degree in Data Intelligence and Strategic Decisions and coordinator of the PhD program in Operations Research of the University of Rome as well as a research fellow of the Istituto di Analisi dei Sistemi e Informatica. He has been responsible for several national and international research projects and author of more than 60 scientific papers published in international journals. His primary research interests include: combinatorial optimization and real life scheduling and routing problems.
Zu diesem Artikel ist noch keine Rezension vorhanden.
Helfen sie anderen Besuchern und verfassen Sie selbst eine Rezension.
Autor: Massimiliano Caramia
ISBN-13 :: 9781846280054
ISBN: 1846280052
Erscheinungsjahr: 01.03.2011
Verlag: Springer-Verlag GmbH
Gewicht: 459g
Seiten: 216
Sprache: Englisch
Sonstiges: Taschenbuch, 244x162x20 mm
Mehr von

Weitere Artikel von