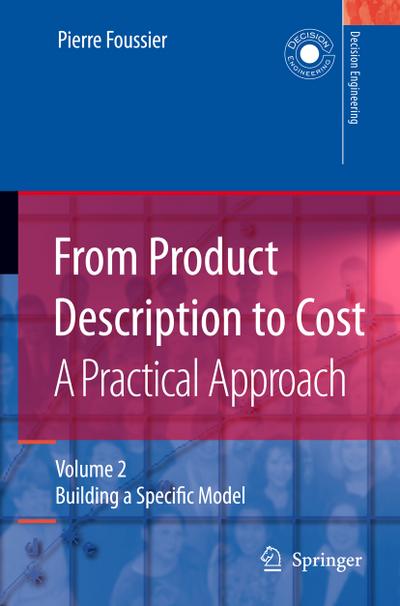 From Product Description to Cost: A Practical Approach
Decision Engineering
Building a Specific Model
Foussier is one of the most experienced cost estimators in Europe
Part 1: Overview.- The Characteristics of a Distribution.- Standard Distributions.- Part 2: Dealing with One Variable Only.- Dealing with Two Variables.- Dealing with Several Quantitative Variables.- Working with Qualitative Variables.- Part 3:-Defining the Distance Between Two Values: Choosing a Metric.- Using the Differences.- Using the First Type of Ratio.- Using the Second Type of Ratio.- Using the Log of the Ratio.- Using the Biweight.- Conclusion.- Part 4: Using One Parameter.- Using Several Quantitative Parameters.- A Particular Case: The 'Ridge' Regression.- Part 5: Introduction.- Defining the Variables.- Part 6: Linearisable Relationships.- Non-linearisable Relationships.- Part 7: Introduction.- The Classical Approach: The Additive Residuals.- The Classical Approach: The Multiplicative Residuals.- The Modern Approach.- Part 8: The Principles.- The Case of One Variable.- The Case of Two Variables.- P Quantitative Variables.- Using Qualitative Parameters.- Part 9: Why Should We Build a Specific Model?.- How Many Variables?.- What Kind of Formula?.- Selecting the Metric.- Quantifying the Quality of the Formula
Cost estimating is a powerful tool in industry and business. Anyone involved in cost estimating will find this book extremely useful because of the real life examples, which mean they can use the information in real situations immediately.
Autor: Pierre Foussier
Pierre Foussier is manager of 3f, the company he founded in 1992 dedicated to the improvement of cost-estimating tools. In his job he develops parametric cost models and trains users of these models. As well as training project managers in cost-estimating, he often acts as a consultant for many diverse companies, carrying out independent cost estimates.
Foussier is a co-founder of AFITEP - a French non-profit organisation specialising in the progress of cost-estimating, planning and project management. He is also the founder of XPAR, a non-profit organisation aiming to promote the parametric method of cost-estimating. XPAR recently merged with AFITEP and is now the working group of this society in the domain of parametrics.
Zu diesem Artikel ist noch keine Rezension vorhanden.
Helfen sie anderen Besuchern und verfassen Sie selbst eine Rezension.
Autor: Pierre Foussier
ISBN-13 :: 9781846280429
ISBN: 1846280427
Erscheinungsjahr: 01.12.2005
Verlag: Springer-Verlag GmbH
Gewicht: 720g
Seiten: 362
Sprache: Englisch
Sonstiges: Buch, 243x167x29 mm
Mehr von

Weitere Artikel von