Autor:
André Naffis-Sahely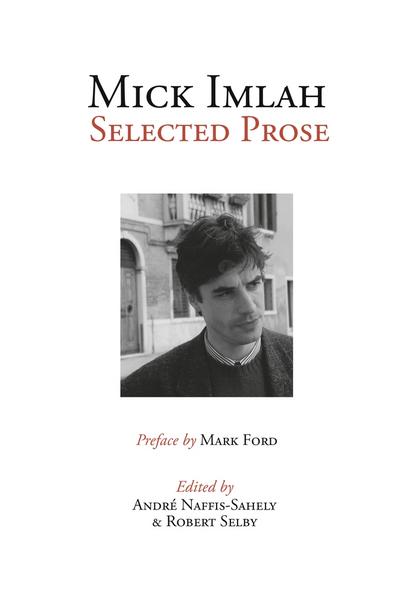 Mick Imlah
Selected Prose
Contents: On Writers: Blind Harry and Robert Baston - Walter Scott - Alfred, Lord Tennyson - Anthony Trollope - Matthew Arnold - James Thomson ('B. V.') - A. C. Swinburne - Robert Bridges - S. R. Crockett - J. M. Barrie - W. B. Yeats - Laurence Binyon - G. K. Chesterton - John Buchan - Edwin Muir - «In the Dorian Mood» - Robert Graves - Graham Greene - Henry Green - Gavin Ewart - Philip Larkin - Christopher Logue - Harold Pinter - Alasdair Gray - Tony Harrison - Ian Hamilton - Seamus Heaney - Douglas Dunn - Julian Barnes - James Kelman - Peter Reading - Christopher Reid - Martin Amis - Paul Muldoon - John Burnside - Michael Hofmann - Irvine Welsh - Douglas Galbraith - «Auld Acquaintances» - «I Belong To Glasgow» - Digressions: Bottle Fatigue - In Praise of Ugly Bugs - Don't Fly Me - On Cricket - On Rugby - The Road from Marrakesh - The Legend of Iron Joss - Away From It All - Interview: With Oxford Poetry.
As well as a highly respected poet and editor, Mick Imlah (1956-2009) was one of the finest literary critics of his generation. He spent most of his twenty-five-year career working for the Times Literary Supplement, reinterpreting familiar writers from Tennyson and Trollope to Larkin and Muldoon, and - as his interest in his Scottish background grew - elucidating those fallen from favour, such as Barrie, Buchan, Muir and Scott. With a preface by Mark Ford, this volume draws together a selection of Imlah's essays that reveal the formidable breadth of his unique literary insight, and the flair with which he communicated it. The volume also encompasses some of his pieces on miscellaneous subjects such as sport and travel, as well as on his own poetry, in order to provide a rounded sense of Imlah the man and writer. Mick Imlah was born in 1956 and educated at Magdalen College, Oxford, where he taught as a Junior Fellow. He was editor of Poetry Review from 1983 to 1986, Chatto and Windus poetry editor from 1989 to 1993, and worked at the Times Literary Supplement for many years until his death in 2009. His second collection of poetry, The Lost Leader, won the Forward Prize in 2008.
Editiert von: André Naffis-Sahely, Robert Selby
André Naffis-Sahely is a poet and translator. His recent publications include The Palm Beach Effect: Reflections on Michael Hofmann (2013) and The Physiology of the Employee by Honoré de Balzac (2014). Robert Selby is a poet, journalist and critic. He completed a PhD on the life and work of Mick Imlah at Royal Holloway, University of London.
Zu diesem Artikel ist noch keine Rezension vorhanden.
Helfen sie anderen Besuchern und verfassen Sie selbst eine Rezension.
Autor: André Naffis-Sahely
ISBN-13 :: 9781906165536
ISBN: 190616553X
Erscheinungsjahr: 17.06.2015
Verlag: Lang, Peter
Gewicht: 635g
Seiten: 281
Sprache: Englisch
Sonstiges: Buch, 241x159x20 mm
Mehr von

Weitere Artikel von