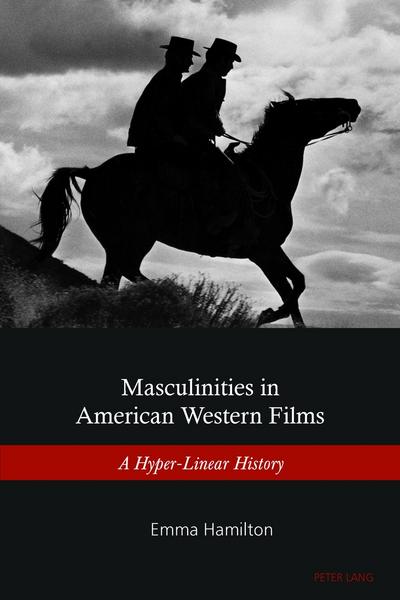 Masculinities in American Western Films
A Hyper-Linear History
Contents: Gender, History and the West - «He's not a man! He's a sack of money!»: Corporatism and the Male Breadwinner - «Back home they think I'm very strange. I'm a feminist»: Re-Evaluating the Feminine Other - «You're the party done all the suffering»: Representing Stereotypes of Native Americans in the «Pro-Indian» Western Cycle - «A pistol don't make a man»: Technology and Masculine Gender Performances - «Who are those guys?»: Understanding American Intervention in the «South of the Border» Western - «As unmarked as their place in history»: Black Westerns, an Alternative History of Masculinities?
The «Western» embodies many of the stereotypes of masculinity: rugged, independent men in cowboy hats roam the barren landscapes of the American West, resolving conflicts with guns and tough talk. Where did these cowboys come from? What historical trends led to their emergence on screen?
Autor: Emma Hamilton
Emma Hamilton is a lecturer in the humanities and history in the English Language and Foundation Studies Centre at the University of Newcastle, Australia. Her research interests include representation studies, especially in relation to issues of historical methodology; gender, sexuality, age and race across time and place; modern American and Australian histories; and gender studies. She is also a passionate open access educator dedicated to widening participation programs, facilitating greater equity in tertiary education and working to find better ways to communicate historical ideas in the classroom.
Zu diesem Artikel ist noch keine Rezension vorhanden.
Helfen sie anderen Besuchern und verfassen Sie selbst eine Rezension.
Autor: Emma Hamilton
ISBN-13 :: 9781906165604
ISBN: 1906165602
Erscheinungsjahr: 30.08.2016
Verlag: Lang, Peter
Gewicht: 415g
Seiten: 280
Sprache: Englisch
Sonstiges: Taschenbuch, 223x152x20 mm
Mehr von

Weitere Artikel von