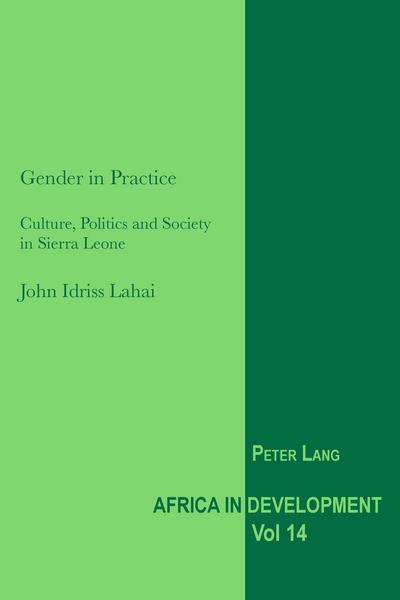 Gender in Practice
14, Africa in Development
Culture, Politics and Society in Sierra Leone
Contents: Practice and Constructs - Rainforest Belief Systems and the Making of Gender Identities - Gender Inequality and the Making of a Civil War - Violent Masculinity and the Making of the Warring Factions - Gender Hierarchies, Roles and Violence in the Warring Factions - Beyond the Recognition of SGBV in the Peace Versus the Justice Debate: How Women Won the Civil War - The Aftermath: Accountability for Gender-Based Political and Cultural Violence - At War's End! Understanding the Postcolonial Question on Queer Sexuality - Socio-Political Change or Resistance? Religion, Politics and the Question of Homosexuality - Women's Agency and the Institutionalisation of Interventions Against Gender Violence and Discrimination Against Women - Acknowledging the Past and Present, and Forging the Way Forward
In Sierra Leone, the dominant epistemological framework of the political and social history of the country and the post-colonial understanding of the place of men and women are based on the inter-subjective discourses of power, place, identity and belongingness. Through a complex web of culturally regulated, politically motivated and patriarchally conditioned belief systems on sexualities, a transition is imagined that goes beyond symbolism and familial attributes. Its aesthetics, as this book demonstrates, are deployed as a domain in which the political and cultural understanding of statehood, gender relations, politics, governance, armed conflict, human rights, women's empowerment and sexual identity are made and remade. In the main, the rudimentary discourses on the everyday individual/collective survival strategies of women have exposed, in expressive forms, the gendered uncertainties in people's lives. However, in practical terms, as described in this book, these uncertainties are a demonstration of the tensions between culturalism (and its post-colonial discontents) and the gender-ideological narrative concerning the question of gender equality and women's place in politics, culture and society across time and space in Sierra Leone.

Autor: John Idriss Lahai
John Idriss Lahai earned his PhD from the University of New England, Australia; and postgraduate degrees from the United Nations University for Peace Studies (UPEACE) and the University of Sierra Leone. Prior to joining Flinders University, Australia as a Research Fellow in the School of History and International Relations, he was an independent consultant with extensive experience working for think tanks and governments in Sub-Saharan Africa and elsewhere. Much of his academic and applied work has investigated the lived experiences of vulnerable peoples and communities within the margins of conflict, peacebuilding and state transformation, seeking to integrate perspectives from gender and women's studies, public policy, public health governance, cultural anthropology, critical political economy, security studies, and human rights. He is co-editor of African Frontiers: Insurgency, Governance and Peacebuilding in Postcolonial States (2015) and author of The Ebola Pandemic in Sierra Leone: Representations, Actors, Interventions, and the Path to Recovery (2016), and his other publications have appeared in journals and edited books.
Zu diesem Artikel ist noch keine Rezension vorhanden.
Helfen sie anderen Besuchern und verfassen Sie selbst eine Rezension.
Autor: John Idriss Lahai
ISBN-13 :: 9781906165772
ISBN: 1906165777
Erscheinungsjahr: 28.10.2016
Verlag: Lang, Peter
Gewicht: 411g
Seiten: 276
Sprache: Englisch
Sonstiges: Taschenbuch, 223x149x27 mm
Mehr von

Weitere Artikel von