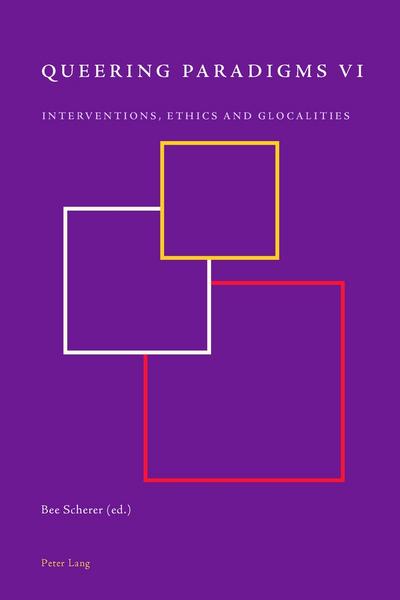 Queering Paradigms VI
6, Queering Paradigms
Interventions, Ethics and Glocalities
This edited volume brings together perspectives on embodied queerness within the complicated parameters of hegemonic normativities, biopolitics and social-religious governmentalities. Queering Paradigms VI offers queer interventions, explores value-production in socio-corporeal normative frameworks, and exemplifies and highlights the complexity of queering in the global-local continuum. Queer maintains its revolutionary subversive functionality as an impulse and catalyst for cultural shifts challenging status quos, advancing cultural philosophy and activism/artivism and subverting harmful discourses at work among communities of practice and academic disciplines. The authors of this volume demonstrate the discoursive power of value-production and show pathways of global-local queer resistance, virtuosity and failure in the fields of philosophy, pedagogy, psychology, art, criminology, health, social media, history, religion and politics.

Editiert von: Bee Scherer
Bee Scherer is Professor of Religious Studies and Gender Studies and Director of the Intersectional Centre for Inclusion and Social Justice (INCISE) at Canterbury Christ Church University, United Kingdom (canterbury.ac.uk/INCISE). An expert in Buddhism and Queer Theory, Professor Scherer has authored more than a dozen monographs and edited volumes in German, Dutch and English. Professor Scherer is the founder of Queering Paradigms and the editor of Peter Lang's Queering Paradigms book series.
Zu diesem Artikel ist noch keine Rezension vorhanden.
Helfen sie anderen Besuchern und verfassen Sie selbst eine Rezension.
Autor: Bee Scherer
ISBN-13 :: 9781906165871
ISBN: 1906165874
Erscheinungsjahr: 30.09.2016
Verlag: Lang, Peter
Gewicht: 446g
Seiten: 308
Sprache: Englisch
Sonstiges: Taschenbuch, 223x149x22 mm
Mehr von

Weitere Artikel von