Autor:
Octavian Adrian Postolache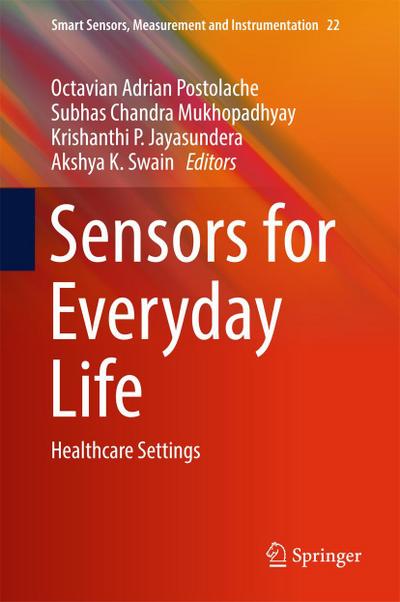 Sensors for Everyday Life
22, Smart Sensors, Measurement and Instrumentation
Healthcare Settings
Describes novel sensors and sensing systems developed for biomedical and healthcare settings
FPGA Based Smart System for Non Invasive Blood Glucose Sensing Using Photoplethysmography and Online Correction of Motion Artifact.- Sensing System for Bone Health Monitoring.- Cavitas Sensors (Soft Contact Lens Type Biosensor, Mouth-Guard Type Sensor, etc.) for Daily Medicine.- Development of Novel Image Sensor for Root Canal Observation.- Frame-by-Frame Speech Signal Processing and Recognition for FPGA Devices.- Elderly Infrared Body Temperature Telemonitoring System with XBee Wireless Protocol.
Sensors were developed to detect and quantify structures and functions of human body as well as to gather information from the environment in order to optimize the efficiency, cost-effectiveness and quality of healthcare services as well as to improve health and quality of life. This book offers an up-to-date overview of the concepts, modeling, technical and technological details and practical applications of different types of sensors. It also discusses the trends for the next generation of sensors and systems for healthcare settings. It is aimed at researchers and graduate students in the field of healthcare technologies, as well as academics and industry professionals involved in developing sensing systems for human body structures and functions, and for monitoring activities and health.
Zu diesem Artikel ist noch keine Rezension vorhanden.
Helfen sie anderen Besuchern und verfassen Sie selbst eine Rezension.
Autor: Octavian Adrian Postolache
ISBN-13 :: 9783319473185
ISBN: 3319473182
Erscheinungsjahr: 04.11.2016
Verlag: Springer-Verlag GmbH
Gewicht: 617g
Seiten: 287
Sprache: Englisch
Sonstiges: Buch, 241x156x25 mm, Bibliographie
Mehr von

Weitere Artikel von