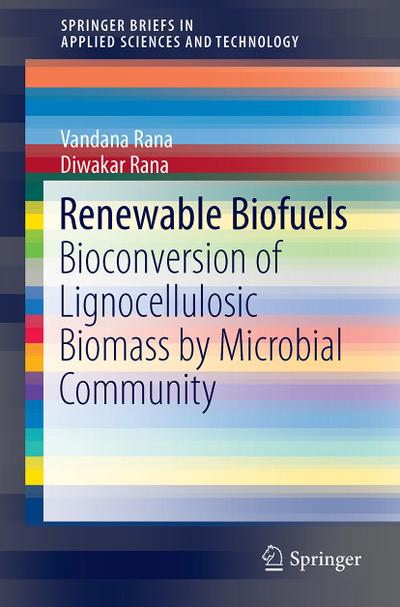 Renewable Biofuels
SpringerBriefs in Applied Sciences and Technology
Bioconversion of Lignocellulosic Biomass by Microbial Community
Provides a concise reference to catalysts for biofuels production, using catalysis by several different microorganisms available to digest the complex lignocellulosic biomass
Includes discussion of all different kinds of lignocellulose degrading enzymes, mode of action, selectivity towards lignocellulose components
Focuses on the details of all available microbes and how they can interacted together to increase the efficiency of the lignocellulose conversion
Introduction.- Lignocellulose structure.- Enzymatic hydrolysis of lignocellulose.- Biodegradation by microorganisms.- Lignocellulolytic enzymes: Potential for biorefinery.- Conclusions.
This book offers a complete introduction for novices to understand key concepts of biocatalysis and how to produce in-house enzymes that can be used for low-cost biofuels production. The authors discuss the challenges involved in the commercialization of the biofuel industry, given the expense of commercial enzymes used for lignocellulose conversion. They describe the limitations in the process, such as complexity of lignocellulose structure, different microbial communities' actions and interactions for degrading the recalcitrant structure of lignocellulosic materials, hydrolysis mechanism and potential for bio refinery. Readers will gain understanding of the key concepts of microbial catalysis of lignocellulosic biomass, process complexities and selection of microbes for catalysis or genetic engineering to improve the production of bioethanol or biofuel
Autor: Vandana Rana, Diwakar Rana
Vandana Rana is a Senior Analyst at Black and Veatch Corporation in Kansas City, Missouri.


Diwakar Rana is a Research Investigator at E.I.du Pont de Nemours and Company in Overland Park, Kansas.
Zu diesem Artikel ist noch keine Rezension vorhanden.
Helfen sie anderen Besuchern und verfassen Sie selbst eine Rezension.
Autor: Vandana Rana
ISBN-13 :: 9783319473789
ISBN: 3319473786
Erscheinungsjahr: 01.12.2016
Verlag: Springer-Verlag GmbH
Gewicht: 205g
Seiten: 140
Sprache: Englisch
Sonstiges: Taschenbuch, 238x156x12 mm, 20 schwarz-weiße Abbildungen, Bibliographie
Mehr von

Weitere Artikel von