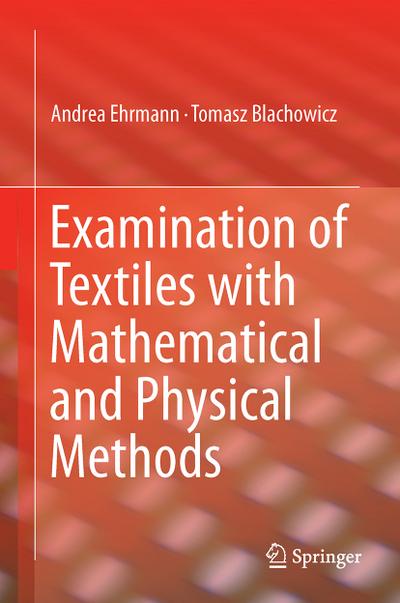 Examination of Textiles with Mathematical and Physical Methods
Shows a variety of measurements used in other sciences that can be adopted for testing textile materials
Preface.- Measurement technology in textile industry and research.- Conductive yarns, fabrics and coatings.- Magnetic yarns, fabrics and coatings.- Dielectric yarns, fabrics and coatings.- Optical examinations of fibers, yarns, and fabrics.- Diffractive effects in yarns and fabrics.- Image processing techniques for evaluation of textile materials.- Thermal properties of textiles.- Hydrophobic and hydrophilic textiles.- Mechanical properties of yarns, fabrics and coatings.- Stab and cut resistance.- Glossary.- About the Authors.
This book presents basic knowledge on the examination of textile materials, from fibers to yarns and knitted or woven fabrics, using mathematical and physical methods. Besides typical textile test procedures, defined by well-known standards, the book aims at showing new ways to examine textile materials and giving an overview of the possibilities as well as problems occurring when methods from other areas are transferred into the examination of textiles. The contents range from apparently simple measurements, such as resistance of conductive coatings on woven fabrics, to diffraction measurements on woven fabrics, to optical examination of knitted fabrics by mathematical approaches to study yarn hairiness and cover factor.
Zu diesem Artikel ist noch keine Rezension vorhanden.
Helfen sie anderen Besuchern und verfassen Sie selbst eine Rezension.
Autor: Andrea Ehrmann
ISBN-13 :: 9783319474069
ISBN: 3319474065
Erscheinungsjahr: 23.11.2016
Verlag: Springer-Verlag GmbH
Gewicht: 420g
Seiten: 177
Sprache: Englisch
Sonstiges: Buch, 244x159x15 mm, 120 schwarz-weiße Abbildungen, Bibliographie
Mehr von

Weitere Artikel von