Autor:
Jose Ignacio Priego Quesada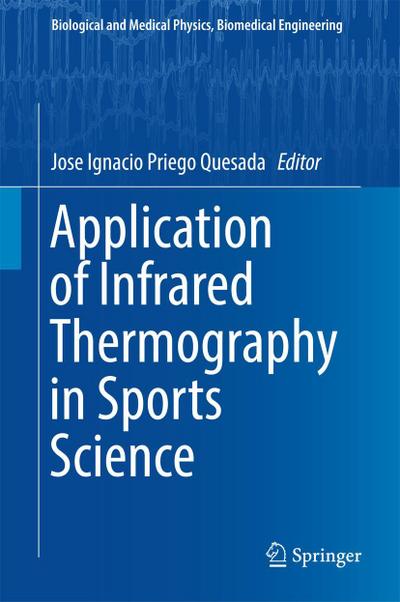 Application of Infrared Thermography in Sports Science
Biological and Medical Physics, Biomedical Engineering
Features principles and applications of thermography to study sports performance and detection of injuries in sports medicine
Introduction: Historical perspective.- Physics principles of the infrared thermography.-Methodological aspects of the infrared thermography in the human assessment.- Infrared thermography on the detection of injury in sports medicine.- Assessment of the sports performance using infrared thermography.- Infrared thermography in water sports.- Assessment of sports clothing and footwear using infrared thermography.- Assessment of sport equipment using infrared thermography.- Assessment of the emotional responses using infrared thermography.- Foot temperature assessment.- Infrared thermography and Whole-body cryotherapy.- Future developments of infrared thermography.- Editor's conclusions.
This book addresses the application of infrared thermography in sports, examining the main benefits of this non-invasive, non-radiating and low-cost technique. Aspects covered include the detection of injuries in sports medicine, the assessment of sports performance due to the existing link between physical fitness and thermoregulation and the analysis of heat transfer for sports garments and sports equipment. Although infrared thermography is broadly considered to be a fast and easy-to-use tool, the ability to deliver accurate and repeatable measurements is an important consideration. Furthermore, it is important to be familiar with the latest sports studies published on this technique to understand its potential and limitations. Accordingly, this book establishes a vital link between laboratory tests and the sports field.
Editiert von: Jose Ignacio Priego Quesada
Jose Ignacio Priego Quesada is a researcher with the Physiology Department of the University of Valencia and thermographer of level 1 by the Infrared Training Center. He is also a researcher of the Research Group in Sport Biomechanics (GIBD). Previously has been working for two years with a research grant in the Biomechanics Institute of Valencia (IBV). His research topics of interest are the use of infrared thermography in sport assessment, cycling biomechanics, sport biomechanics and footwear assessment. In 2015, he has been awarded as the best poster presentation at the XIII Congress of the European Association of Thermology.
Zu diesem Artikel ist noch keine Rezension vorhanden.
Helfen sie anderen Besuchern und verfassen Sie selbst eine Rezension.
Autor: Jose Ignacio Priego Quesada
ISBN-13 :: 9783319474090
ISBN: 331947409X
Erscheinungsjahr: 01.01.2017
Verlag: Springer-Verlag GmbH
Gewicht: 685g
Seiten: 327
Sprache: Englisch
Sonstiges: Buch, 241x156x27 mm, 25 schwarz-weiße und 20 farbige Abbildungen, Bibliographie