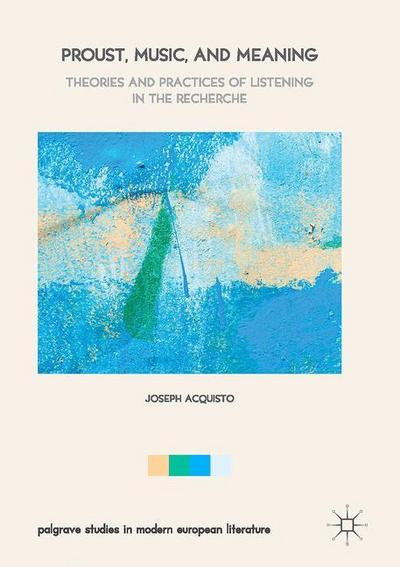 Proust, Music, and Meaning
Palgrave Studies in Modern European Literature
Theories and Practices of Listening in the Recherche
Draws together a range of disciplines, including Philosophy, Musicology, and Literary Studies to explore Proust's work
1. Listening for Meaning.- 2. Swann Set to Music.- 3. A Subject Formed in Listening: Love, Music, and Truth in the Albertine Story.- 4. Saying, Doing, Listening.- 5. Fiction, Memory, and Music.- Bibliography.- Index.
This book is about reading Proust's novel via philosophical and musicological approaches to "modern" listening. It articulates how insights into the way we listen to and understand classical music inform the creation of literary meaning. It asks: are we to take at face value the ideas about art that the novel contains, or are those part of the fiction? Is there a difference between what the novel says and what it does, and how can music provide a key to answering that question? According to this study, Proust asks us to temporalize our interpretation by recognizing the distance between initial and final experiences of the novel, and by being open to the ways in which it challenges attempts at interpretive closure. Proust's novel responds to the kind of attentive and eternally changing perspectives that can be generated from music and our attempts to make sense of it.
Autor: Joseph Acquisto
Joseph Acquisto is Professor of French at the University of Vermont, USA. His books include French Symbolist Poetry and the Idea of Music (2006), Crusoes and Other Castaways in Modern French Literature (2012), The Fall out of Redemption (2015), and the edited volume Thinking Poetry (2013).
Zu diesem Artikel ist noch keine Rezension vorhanden.
Helfen sie anderen Besuchern und verfassen Sie selbst eine Rezension.
Autor: Joseph Acquisto
ISBN-13 :: 9783319476407
ISBN: 3319476408
Erscheinungsjahr: 05.03.2017
Verlag: Springer-Verlag GmbH
Gewicht: 423g
Seiten: 215
Sprache: Englisch
Sonstiges: Buch, 218x151x20 mm, Bibliographie
Mehr von

Weitere Artikel von